Who Are We
We are an IT Company in New Jersey
Ascendant is an IT company in New Jersey managing business' computer needs since 1994.  We are your dedicated outsourced IT department.  Over 25 years, we have delivered top-notch IT services for SMB sized businesses in New Jersey, New York, and Pennsylvania.
Our IT consultants are eager to meet you and learn more about your business.  If you're searching for a new IT company to manage your business network, you've come to the right place.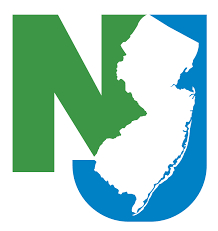 What Are We Offering
Our IT Company Services
On-going IT Management – If you've ever tried to manage your own business IT support & services you know it's challenging.  IT support can consume your time business time and impact your productivity.  Ascendant has dedicated remote support & onsite IT technicians to manage your business computer systems on a regular basis.  We believe your business would benefit from managed IT services.  We would be happy to build a cost effective solution for your business.
Cybersecurity – There's rapid growth in the cybersecurity world and for good reason.   Cybercriminals are targeting your business and planning to hold your company and data for ransom.  If you're looking to take control of your IT infrastructure and data, Ascendant has a solution for you.  We have certified technicians to administer your firewall, anti-virus, security patch management, advanced threat protection, endpoint detection response, and much more.
Cloud Services – The cloud offers so many options to small and medium businesses today.  Half the challenge is understanding your available options.  Email, virtual desktops (VDI), hosting remote workers, and a host of other cloud computing options are readily accessible to your business.  Ascendant's next-generation software solutions can improve your business network.  Not sure how best to incorporate cloud hosting in your technology plan?  Let Ascendant's cloud consulting experts show you the way!
IT Projects – Your staff and company demand more technology as your business grows.  This occurs naturally, but managing your own IT projects on your own is difficult. When it comes to IT project management, we offer white-glove services.  Ascendant manages the IT projects for your company through ordering, prepping, and implementation.  Some examples of IT projects we can do for your company are: Office 365 email migration, new firewall, new servers, data backup and recovery, cloud migrations, and much more!
Backup & Data Recovery –  Ascendant's backup and data recovery are a premium backup solution.  Never worry about losing company data to ransomware again.  At Ascendant, we take a  proactive approach to managing your backup systems.  We schedule backups to run during your business' off-peak hours.  After your backup runs, an IT specialist reviews the backup daily to ensure the data is recoverable if needed.  Often we'll see other IT companies in New Jersey check on your backup after the disaster occurs only to find it's a partial backup or not restorable.  Get your data back when you need it, not an excuse!
This is a brief summary of the many information technology solutions Ascendant has to offer.  For more information please visit our Services Overview page for a comprehensive list of our technology solutions.
Choose New Jersey's Top IT Consultants
Why
Ascendant is in the top IT Companies in NJ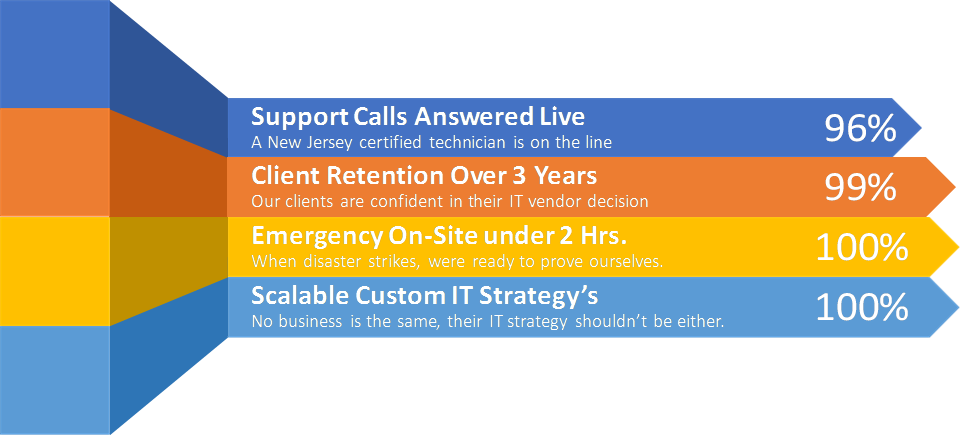 Ascendant Technologies is not like other IT companies in NJ.  Our technology companies use only the best IT consultants with a minimum of 5 years' experience.  Our large partner group allows us to deliver business solutions that your company needs. No long multi-year contracts, we'll earn your business month-over-month.  We have implemented hundreds of technology solutions for businesses.  Once you have the Ascendant team as your support company of choice, you won't need to search for other IT companies in New Jersey.
Service Area
Service in your Area
Ascendant Technologies currently services small to medium sized business.  Enterprise level companies will be serviced on block hour schedules.  We offer IT consulting & technology solutions for the following NJ counties:
Somerset, Mercer, Middlesex, Monmouth, Hunterdon, Warren, Morris, Essex, Union, Hudson, Bergen, Passaic, Sussex, Ocean, Burlington, Camden, Atlantic, Gloucester, Salem, Cumberland and, Cape May.
Interested in our IT company? Contact us today for a no-obligation quote.