Cybersecurity Consultants in NJ
When you leave your office, you set the alarm and lock the doors to keep your company's possessions from theft and harm. While protecting physical assets might be second nature, safeguarding your company's digital assets might not be. Still, your digital assets, such as files, emails and networks, need just as much protection.
Cybersecurity protects your company's computers, smartphones, networks and servers from attacks by third parties. Ascendant offers cybersecurity consulting services to companies that must go the extra mile to protect their digital assets.
Every business knows that one of its most important assets is its data. That's why it can be challenging to recover from unwelcome incidents like cyberattacks and other threats that can compromise your information. Luckily, you can safeguard all your most valuable assets by hiring cybersecurity consultants for your New Jersey business.
At Ascendant Technologies, Inc., we offer cybersecurity consulting services that protect companies throughout New Jersey. We've served as a trusted source for information technology (IT) support for over 25 years, providing clients with over 115 available services.
What are Cybersecurity Consulting Services?
Cybersecurity consulting involves reviewing your company's existing security practices. During a consultation, a team member will recommend ways to improve your cybersecurity or implement new solutions.
Since cybersecurity takes many forms, a consultant might recommend a combination or all of the following solutions:
Application security: Application security protects your company's software. It involves testing software to see how it responds to threats and developing features to protect applications.
Disaster recovery:  If your company experiences a cybersecurity incident, disaster recovery works to keep your business online. Disaster recovery also includes the process of restoring lost data.
Information security: Whether you're storing files or sending them from one location to another, you must ensure they are protected from interception. Information security includes encryption, which prevents a third party from using your data if they intercept it.
Network security: You need to safeguard your company's network from unauthorized users. Network security protects against malware and other malicious attacks.
Operational security: How you protect data matters. Operational security involves setting user permission levels and deciding how and where to store data.
Education: The more your team knows about cybersecurity, the better. A cyber security consulting firm can conduct training sessions or recommend resources to educate your team about common techniques bad actors use.
Types of Cybersecurity Threats?
Cyber security services involve a consulting company implementing technologies, processes and practices to protect a business's networks, programs, information and devices from cyberattacks, data loss or damage. Cybersecurity consultants aim to equip an organizations' network infrastructures against cyberthreats, such as:
Malware: This is malicious software that compromises the integrity, accessibility and confidentiality of a system's data.
Phishing: Phishing occurs when an unauthorized individual obtains data by pretending to provide a legitimate service.
Ransomware: Ransomware is software that uses malware to limit a user's system access through data encryption and requests ransom pay to restore access.
Distributed denial of services (DDoS): These events are cyberattacks that slow web response times by overloading networks with traffic requests.
Our Cybersecurity Solutions in NJ
When you book cybersecurity consulting from Ascendant, our team of expert technicians will install the proper protections to safeguard your IT networks against threats. Some of our most popular cybersecurity consulting services include:
Firewalls: Security systems that manage incoming and outgoing network traffic by creating a barrier against untrusted networks.
Anti-virus and anti-malware software: Computer programs that prevent, detect and block viruses and remove malware.
Staff training: Training sessions for educating employees on how to identify and avoid cyberthreats.
Penetration testing: Assessments that detect cybersecurity vulnerabilities so we can determine how to minimize them.
Network security monitoring: Around-the-clock IT system monitoring to identify and mitigate cyberattacks.
Risk and compliance management: Cybersecurity solutions that comply with federal guidelines.
Benefits of Hiring Cybersecurity Consultants
A cybersecurity consultation keeps your valuable data and assets safe from intruders and bad actors. However, working with a cybersecurity consultant also contributes to:
Greater productivity: Your company can accomplish more when you know your data is safe. Employees can work more efficiently with the necessary tools and knowledge to secure your company's information.
Less downtime: The fewer malware attacks, viruses or phishing attempts your team falls for, the less downtime your company will experience. Cybersecurity keeps your systems up and running.
Compliance: Depending on your industry, you may need to follow compliance regulations. A cybersecurity consultant helps you determine which security measures you need to follow to remain compliant.
Better reputation: Data breaches and other security threats can hurt your company's reputation. Improving your cybersecurity supports your reputation and reassures customers.
Expert assistance: Cybersecurity consultants can help you feel confident that you're taking the necessary actions to protect your company. A consultant can guide you through choosing and implementing the right security measures.
Cyberthreat identification, prevention and mitigation
Minimized losses
Cost savings
Investment maximization
Fewer user errors
Cybersecurity Safety Tips
Follow these tips to keep your network, applications and information safe:
Train employees: Teach your employees to use strong passwords and avoid clicking on suspicious links. Train them to recognize and respond to phishing attempts.
Keep your systems up-to-date: Software and system updates often include patches that correct vulnerabilities. Update them often to minimize your risk of attacks.
Install anti-virus software: Use anti-virus software to scan your systems regularly. This measure identifies viruses, malware and ransomware.
Why Choose Ascendant for Cybersecurity Consulting in NJ?
At Ascendant, we've spent decades perfecting our active IT management strategy to deliver the most reliable technical support. Our partnerships with trusted companies like Microsoft, Nextiva and Dell enable us to offer the best possible pricing to our clients. Other benefits of working with Ascendant include:
Custom IT strategies: We treat every business individually, developing one-of-a-kind IT solutions that reflect their goals.
Team expertise: Each of our technicians has a minimum of five years of IT experience, ensuring the highest knowledge and skill levels for our clients.
Continuous support: Our support staff provides 24/7 monitoring to protect your systems day and night.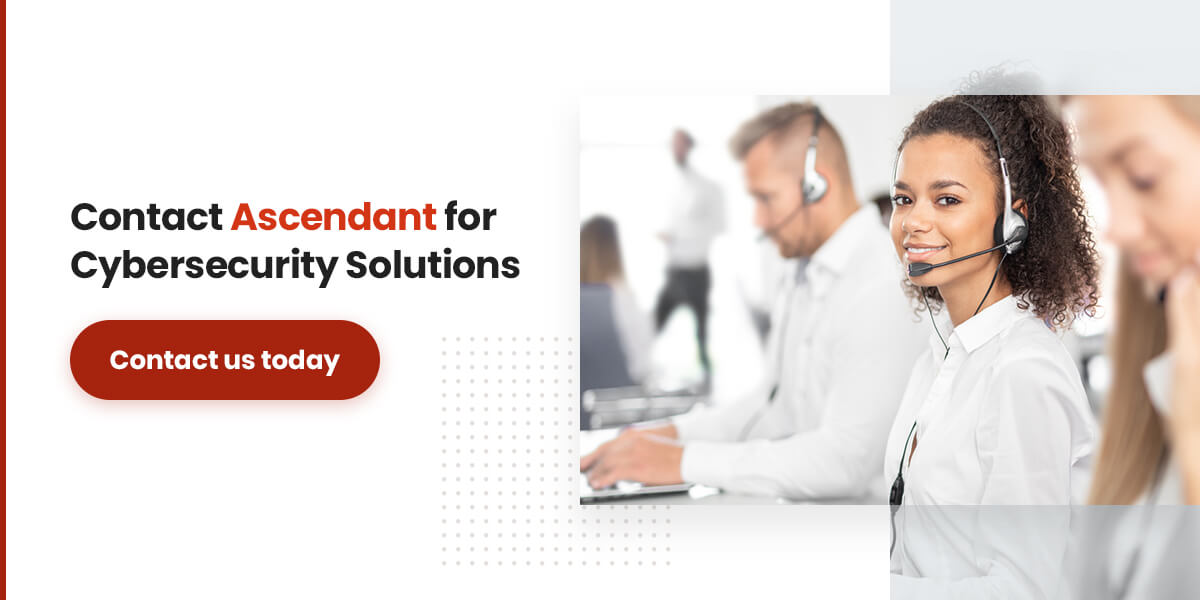 Safeguard Your Systems by Booking Cybersecurity Services in NJ Today
If you're looking for expert cybersecurity consultants in NJ, Ascendant Technologies, Inc. is your solution. We're proud to have completed over 2,235 IT projects for clients all throughout New Jersey, Pennsylvania and New York. With our skilled technicians by your side, you'll save money, boost productivity and improve business efficiency.
Fill out an online form to learn more about our cybersecurity services in NJ today!