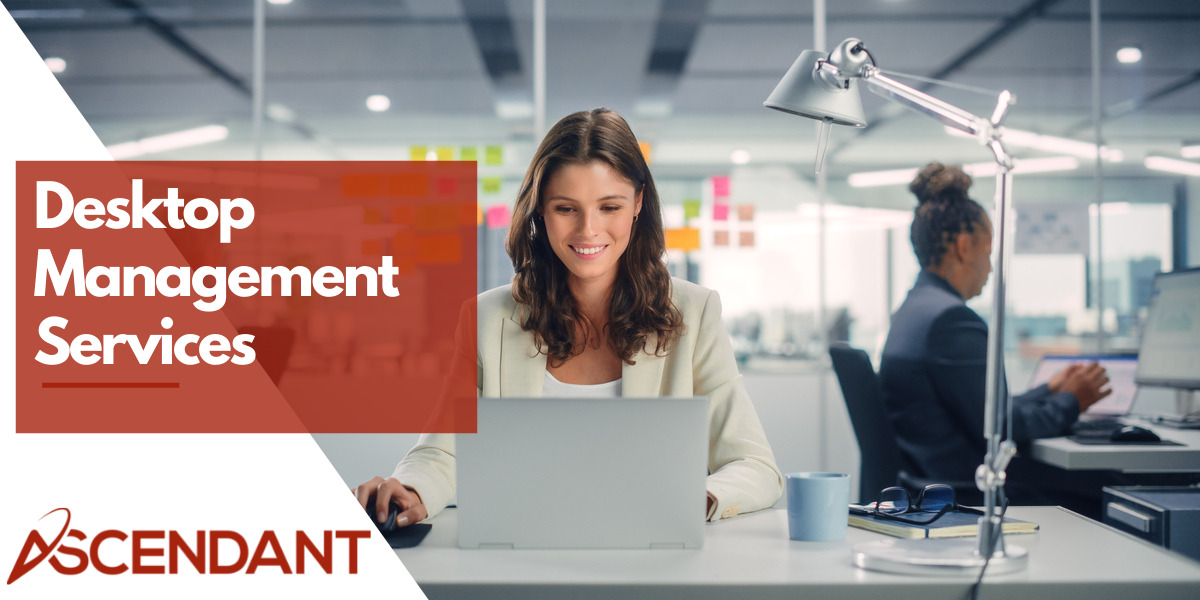 Most people take their desktop computing environment for granted. They assume that their computer will work the way they want it to, when they want it to, and that all their files and programs are safe and secure. However, this is not always the case. In fact, many organizations find themselves struggling with a wide range of desktop-related problems on a daily basis. This can be costly and time-consuming, and can seriously impact business operations.
What are Desktop Management Services (DMS)?
Desktop Management Services provide organizations with the ability to centrally manage and deploy software and updates to employee desktops. DMS can also help to secure and manage desktop configurations, as well as automate routine tasks, such as deploying software updates.
DMS provides a comprehensive and proactive solution for the desktop computing environment. DMS encompasses all aspects of desktop management, from endpoint management security and software deployment to system monitoring. By using a DMS, organizations can improve their overall desktop infrastructure while reducing costs.
The Benefits of Managed Desktop Support Services
When it comes to device management, using managed desktop services can offer many benefits. Some of the benefits of using managed desktop services include:
Increased security
With managed desktop support services, organizations can rely on the expertise of the service provider to help keep their desktops secure. This includes installing updates and patch management as soon as they are available, as well as configuring desktops to meet security best practices.
Increased reliability and performance
By managing the desktop environment centrally, service providers can help ensure that all desktops are configured properly and are running the latest versions of software. This can help to improve reliability and performance for users.
Reduced costs
Organizations that manage their own desktops can face significant costs in terms of time and resources. Managing desktops can be a complex and time-consuming task, and often requires specialized skills. Managed desktop support services can help organizations reduce these costs, while still maintaining control over their desktops.
Increased flexibility
Managed desktop services can offer organizations increased flexibility when it comes to managing their desktops. For example, service providers can often tailor their services to meet the specific needs of an organization. Additionally, managed desktop services can be scaled up or down as needed, making them ideal for organizations that have fluctuating needs.
Improved productivity
One of the main goals of using managed desktop services is to improve employee productivity. By having a team of experts manage the desktop environment, employees can focus on their work tasks, rather than managing their own desktops. Additionally, by automating routine tasks, such as software updates, employees can save time that would otherwise be spent on these tasks.
What Is Included In Computer Management Services?
Computer management service packages typically include remote monitoring and management (RMM) software agent that allows a user to manage their desktop environment from a central location. This can include managing users, devices, applications, and other desktop settings. Some computer management service packages also include tools for remote troubleshooting and support. Our typical managed desktop package will include at least the following:
Unlimited Remote IT Helpdesk Support For Managed Workstations
Our team of IT professionals will provide your business with unlimited remote IT helpdesk support for all of your managed workstations via our remote access management tool.
Unlimited Onsite IT support For Managed Workstations
We offer unlimited onsite IT support for your managed workstations. Our onsite IT support can be used for anything from technical troubleshooting to emergency support.
System Monitoring
We continuously monitor your workstations and systems to ensure that they are always running optimally. We're notified of all issues immediately.
Advanced Antivirus Endpoint Detection & Response (EDR)
We set up an advanced antivirus solution that uses endpoint detection and response (EDR) technology to protect your workstations and end-users from malware and other security events.
Microsoft Patch Updates
We make sure that all of the Microsoft patch updates are installed on your workstations regularly to keep them secure and up-to-date.
Third-Party Patch Management
We can also provide third-party patch management services to keep your workstations up-to-date with the latest security fixes and software updates.
Asset Management: Hardware And Software Inventory
We track all of your workstation assets and software licenses so that you can always see what you have and where to find them. This helps with managing your IT budget and ensures that you're not overspending on licenses or hardware. While maintaining minimum hardware and software requirements. With the proper asset management procedures in place, your team will thrive.
Managed Cloud Backup
We set up and manage a cloud backup service for your workstations. This ensures that your data is always backed up and safe in the event of a disaster.
A Team of System Administrators
You'll have access to a team of system administrators who can help you with anything you need. We're here to help you with managing your workstations, desktop maintenance troubleshooting technical issues, and providing support when you need it.
Dedicated Account Coordinator
You'll have a dedicated account coordinator who will be your main point of contact. They will work with you to ensure that your needs are always met and that you're happy with our services.
Enhance Productivity With Desktop Management Software
It's no secret that desktop management software can improve productivity in the workplace. By properly managing your company's desktops, you can ensure that they are always running optimally and securely. This can help to improve employee effectiveness and reduce the amount of time spent dealing with technical issues.
Overall, desktop management software can help to improve the overall health of your company's computing devices, security, and reliability in the workplace. If you haven't looked into computer management service companies capabilities, it's time to consider starting to connect with us.
Ascendant Is A Top Managed Workstation Service Provider in New Jersey
If you're looking for a top-rated managed workstation service provider, look no further than Ascendant Technologies. We offer a wide range of services that are designed to help you improve staff efficiency, security, and reliability in the workplace. Our team of experienced system administrators are here to help you get the most out of your desktop environment.
We have a wide variety of services that are designed to meet the needs of businesses of all sizes. Some of our most popular services include unlimited remote IT helpdesk support for your end-users, unlimited onsite IT support, system monitoring, advanced antivirus protection, Microsoft patch updates, and software applications troubleshooting.
Get Started Today With Managed Computer Services Today
If you're looking for a way to improve productivity, security, and reliability in your workplace, then it's time to consider a desktop management service. Ascendant Technologies is a top-rated managed workstation service provider that offers a wide range of services that are designed to meet the needs of businesses of all sizes. Contact us today to learn more about our services and how we can help you get the most out of your desktop environment.