Most businesses today utilize all kinds of technology as part of vital day-to-day operations. Unfortunately, things break, go offline, have errors or are simply inefficient and hard to use. Sometimes your hardware or software just needs to be updated or improved. Not all businesses can have a full in-house team of IT professionals, so many choose to use an IT consulting firm instead. IT consultants work for a specified amount of time on a specific goal or project relating to technology.
What Is an IT Consultant?
An IT consultant is an information technology professional who supports clients during a technology project. Each IT consultant typically has specific training and expertise in an area of IT. They work on projects relating to cybersecurity, software, hardware, data collection, data analysis, risk assessment, cloud services, disaster management and more. They advise businesses on all things relating to IT.
Often, IT consultants offer advice and services to companies who are trying to update their IT strategies. Clients might be using outdated technology, and IT consultants can help them determine what they can use to streamline processes and how to implement them into current systems seamlessly. Consultants can continually work with clients to recommend new technology because this is a rapidly growing and changing industry — this position can help businesses ensure they are using recent technology that will provide the best services and promote success.
What Services Does an IT Consultant Provide?
IT consultants can provide a number of different important services for your business, and that's part of what makes them so valuable. Here are a few examples of different services you can request from an IT consulting firm:
Recommend an IT strategy
Analysis of current technologies and recommendations for improvement
Provide solutions to reduce employee workload or increase productivity
Set up, integrate and maintain IT systems
Find ways to collect and analyze information
Complete risk assessments
Increase cybersecurity
Resolve technical crises, such as from hackers or natural disasters
Continuous support
If you're not sure if an IT consultant is what you need, just ask. Ascendant Technologies Inc. can provide a free network assessment to help you get started.
Why Does a Business Need IT Consulting?
The use of technology is essential for business growth in today's world. Achieving technological growth can be difficult since many companies lack an IT department. An IT consultant can help you discover weak points in your infrastructure or ways to improve. They can recommend new software or hardware that increases the productivity of your employees or save time.
They can also work on various projects to help you reach certain goals. When it's time to implement upgrades, cloud services or new computer systems, you'll need an expert. Hiring a consultant means you won't have to burden employees who may not have the expertise or time needed.
IT consultants are also necessary if you have technological breakdowns or data loss. If you have some sort of problem with your infrastructure, computer system or software, you need a reliable and quick fix that doesn't impair your business. Having access to an IT consultant means you can take the necessary steps as soon as possible.
5 Benefits of IT Consulting Services
Hiring an IT consultant can help your business do all sorts of things. Even when you don't have any problems you're aware of, an IT consultant can usually give recommendations for improvement. Technological upgrades could be what take your business to the next level. Here are five reasons to hire an IT consultant or IT consulting firm: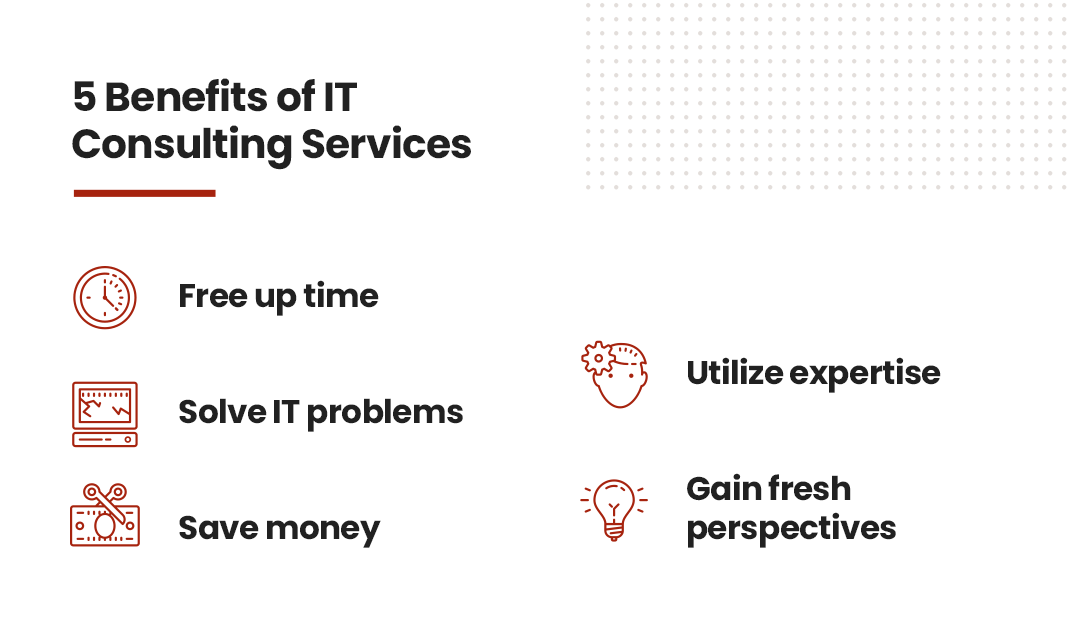 1. Free Up Time
Hiring an IT consultant or IT consulting firm enables you and your employees to focus on business operations. You won't have to take up your own valuable time trying to work on the IT issue. Doing this can take up an excessive amount of time and be frustrating if you don't have the knowledge you need. When you hire an IT consulting firm, you can be sure they have the expertise needed to fix the problem.
2. Solve IT Problems
Technological problems can slow down or even stop your business. If you have an IT problem, you need it fixed as soon as possible. Even if you have an IT employee, they may not have the time or expertise related to that specific problem. An IT consultant can make sure your problem is solved quickly so your business can return to its operations. Hiring an IT consulting firm gives you access to a wide range of IT experts that can provide support on practically any IT issue.
3. Save Money
Hiring an IT consulting firm is more cost-effective than hiring a full-time in-house team of IT professionals. Since IT professionals usually only have expertise in one or two areas, they may not be the best fit for certain projects or problems, so you would likely need to hire an IT consultant anyway. Your business may not need IT services year-round.
When you hire an IT consultant, you only pay for the time and services you really need. Some IT consulting firms also have partnerships with other companies that can result in cost savings for you.
4. Utilize Expertise
As mentioned above, IT professionals have training in specific areas. For example, someone you hire to manage desktop support may not know how to handle a cybersecurity breach. With an IT consulting firm, you'll have access to a team of qualified professionals. The people with the expertise you need will be able to help you with your project.
5. Gain Fresh Perspectives
Another benefit of hiring an IT consultant is getting an outside perspective. Sometimes, you are too close to a problem to find the best way to solve it. Even your employees may be so used to a problem that they don't even think about another way to do things. When you bring in an outside expert, they will be better able to analyze the situation and find a solution.
Reach Out to Our Team of Expert IT Consultants Today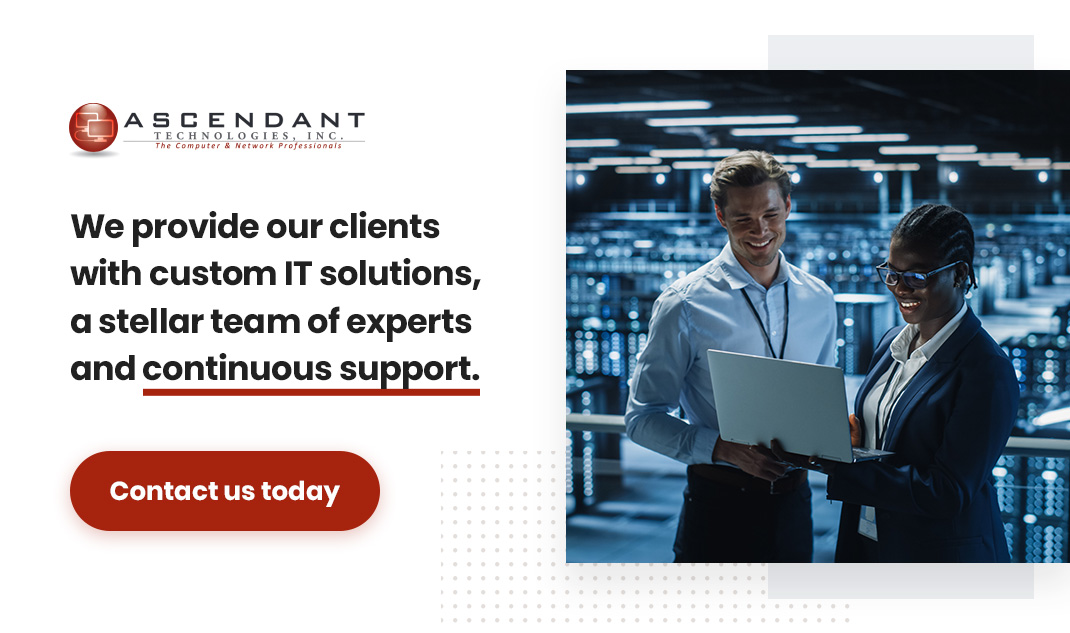 Ascendant Technologies Inc. is an IT company that can provide your small or medium-sized New Jersey business with reliable consulting services. We provide our clients with custom IT solutions, a stellar team of experts and continuous support. We've supported businesses for over 25 years and offer over 115 different services.
We can provide you with a free network assessment and discuss your needs with you. Contact Ascendant today for professional IT support solutions that help your business stand out from the rest.
Ascendant Technologies Inc. also offers other IT services, such as network security, cloud services, infrastructure upgrades, desktop virtualization, backup and data recovery, business email and VOIP services. Let us know if you need any help.