If you're taking steps toward a digital transformation for your business, you might find you lack the resources to do it on your own. That's where managed service providers come in. A managed service provider (MSP) can provide your company with access to resources and support that may have previously been unattainable.
Of course, you need to make sure you're making the best decision when you sign with an MSP. Read on to learn how to choose a service provider that's right for your company.
What Is a Managed Service Provider (MSP)?
An MSP is a company that assists businesses with various IT services, including:
24/7 IT helpdesk services
Co-managed IT services
Data security
Managed infrastructure
Database optimization and management
Business voice over IP (VoIP)
Managed applications
A good managed service provider will work with you to enhance your organization's IT strategy both now and in the future. They can help you plan for potential disaster situations so your business can recover from incidents like power outages, data theft and equipment failure.
You should also look for a provider whose services are scalable so you can change your agreement if your company's needs ever change. That way, you'll only pay for what you need, and you'll have the flexibility to expand or downsize as you see fit.
Learn More About Our IT Management Services
What Are Co-Managed IT Services?
Co-managed IT is a type of managed service that essentially augments your existing IT strategy by allowing you to divide tasks and responsibilities between your in-house team and your MSP.
It's an excellent compromise for companies with an established IT department because it allows them to get more done without hiring more people. For example, a company could assign helpdesk support to their co-managed team, which would free up time for their existing staff to work on new projects. Or they could take advantage of their MSP's resources by keeping smaller tasks in-house and outsourcing large projects like cybersecurity and data storage.
The Top 4 Tips for Choosing the Right Managed Service Provider in New Jersey
Partnering with an MSP is a significant investment of both finances and trust. These four tips can make it easier to choose managed service providers in New Jersey.

1. Audit Your Organization's Current IT Situation
Your first step should be to take stock of what IT systems you already have in place so you can figure out what your needs are.
If you already have an in-house IT specialist or team, look for any gaps in your current performance. There may be projects they want to take on but lack the resources for, or they may be too caught up in incoming support tickets to dedicate proper time to data management. Keep this information in mind when you begin your search.
Similarly, if you do not already have an IT strategy, consider what IT challenges your business is experiencing. Take stock of what equipment you already have and what equipment you might need.
Once you have a clear idea of your needs, you'll be better prepared to choose a managed service provider.
2. Thoroughly Research Different Providers
Like any business decision, you want to weigh out all your options before making your final choice. In addition to consulting with different companies, take some time to look into their background and get to know them from an objective viewpoint.
Some important factors to examine include:
Scope of services: If you know which services an MSP offers and what those services entail, you're more likely to find a good match.
Cybersecurity practices: All organizations need a comprehensive cybersecurity strategy, and MSPs can help you bulk up your defenses. Ask about what tools this provider uses and what kind of support they can give you.
Included tools and equipment: Many companies benefit from working with MSPs because they grant access to technology and resources that would typically be out of their reach.
Provider reputation: Read reviews and learn about the provider's previous work to ensure this is an organization you would feel comfortable working with.
Service hours: Uptime is critical in today's digital economy. Does this provider offer services around the clock or only during regular business hours?
Communication: When you work with an MSP, you need to be in constant contact with them. Learn what channels of communication a provider uses to ensure a good fit.
3. Create and Stick to a Budget
Of course, you need a provider that works within your company's budget. Before you make any other steps, determine what kind of financial shape your organization is in — what can you afford, and where are there opportunities to save?
When you are in the process of investigating potential MSPs, be sure to be upfront about your budget. Let the provider know what you can pay so they can give you an accurate idea of what resources and services they can provide for you.
4. Find a Provider Who Understands Your Business
There is no one-size-fits-all IT solution — and the same is true for MSPs. A provider with the knowledge and tools to meet your organization's specific needs will be the most likely candidate to present solutions for your existing strategy.
Look for an MSP who has experience within your industry — some providers specialize in specific industries and have areas of expertise, like HIPAA compliance or server security. It can also help to choose a provider who has previously worked with companies of your size. After all, a small business has different needs than larger companies.
Choosing a Managed Service Provider for Your Business in New Jersey
Your business does not need to be in the same state or region as your MSP. However, working with a nearby provider can be more convenient for your organization.
Here are a few of the reasons why choosing a managed service provider in your region can be advantageous:
Culture: Because you and your MSP are from the same region, your company cultures are more likely to align, making communication and collaboration much smoother.
Hours: It will be easier to get in touch with an MSP in your area than one operating across the country — or the world.
Local support: If your organization does not already have an IT team, choosing a nearby provider is a smart option. When you or your staff need tech help right away, your MSP can assist much quicker than one far away.
Contact Ascendant Technologies, Inc. for Managed IT Services Today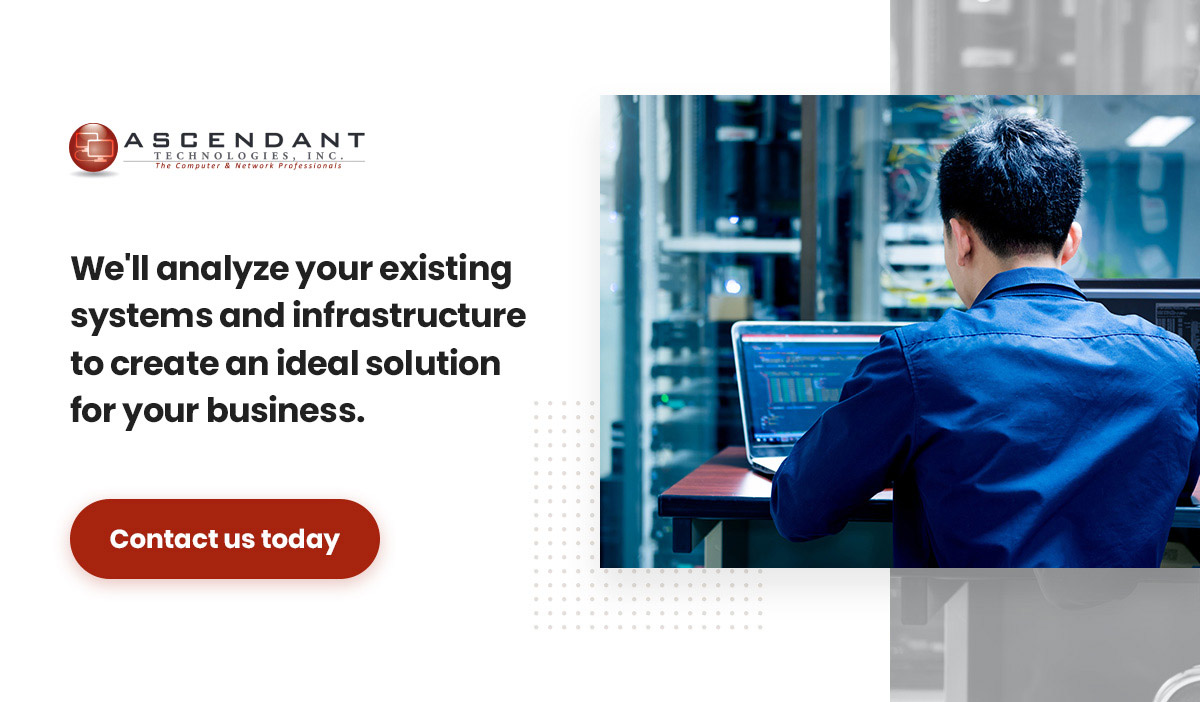 With over 25 years of experience in managed IT, Ascendant has the knowledge and expertise to deliver exceptional service and support to your business. Our team of expert IT professionals provides 24/7 support and customized management solutions to New Jersey businesses of all sizes.
See why Ascendant is one of the top managed services providers in New Jersey by scheduling a free IT network consultation. We'll analyze your existing systems and infrastructure to create an ideal solution for your business. Contact us today for more information.