Your firewall is a critical part of your cybersecurity infrastructure. As more companies undergo digital transformations, firewalls become more necessary than ever. But with all the options available, how do you know which is the best firewall for your business?
We created this list to help you pick the best firewall software and hardware for your business — learn more about the top firewalls for businesses.
What Are the Best Firewalls for Businesses?
If your business is looking for a network security solution, consider the following five recommendations.
1. Cisco Meraki Series
We think this Cisco firewall series presents the best firewall for small and medium businesses out there. This cloud-based system was designed for remote operation, making it a good enterprise firewall for large businesses with branch offices or remote or distributed teams.
Key features include:
Cloud-based configuration: Because the Meraki series is cloud-based, deployment is quick and easy — all you need to do is hook it up to the internet and a power source, and you're good to go.
Advanced security features: The Meraki series offers premium enterprise-grade security features such as advanced malware protection, intrusion prevention systems, content filtering and packet analysis to keep your network safe from incoming threats.
Comprehensive reporting: This firewall can generate highly specific reports on user, application and device usage so you can identify the users or applications that use the most bandwidth. Plus, the intuitive dashboard provides at-a-glance information so you can easily keep tabs on your network.
User-friendliness: In addition to being easy to deploy, the Meraki series is straightforward and easy to configure, which helps small businesses secure their networks without having a dedicated technician on site.
2. Firewalla Purple
Firewalla's all-in-one firewalls are game-changers for small businesses and startups looking for cost-effective, non-intrusive network security solutions. The Firewalla Purple is Firewalla's mid-tier smart firewall device and comes with a full suite of security features for business use. It's easy to deploy and monitor since you can access the dashboard right from your smartphone.
Some other key benefits of the Firewalla Purple include:
Office-friendliness: Don't let the small package fool you — this tiny box contains a powerful firewall perfect for small offices, startups and at-home businesses. It connects directly to your router, so you don't need to set aside any extra space.
Wi-Fi network and hotspot: You can use the Firewalla as a secondary WAN to keep operations running even if your primary network cuts out. It also doubles as a Wi-Fi hotspot for up to eight users.
Ad block: Firewalla's built-in ad blocker places a two-way barrier between you and advertisers on all your devices — you won't see their ads, and they won't see your data.
Built-in VPN server and client: The VPN client allows you to connect any device, from computers and tablets to Internet of Things (IoT) devices like smart TVs, to various VPN options.
Threat notifications: The Firewalla device constantly monitors your network and notifies you if it detects malicious activity, such as unauthorized network access or employees clicking on phishing links.
Firewalla also offers several other firewalls for business and home use that vary in number and complexity of features. Larger businesses would gain similar benefits from the Firewalla Gold, which doubles as a router and offers higher system memory.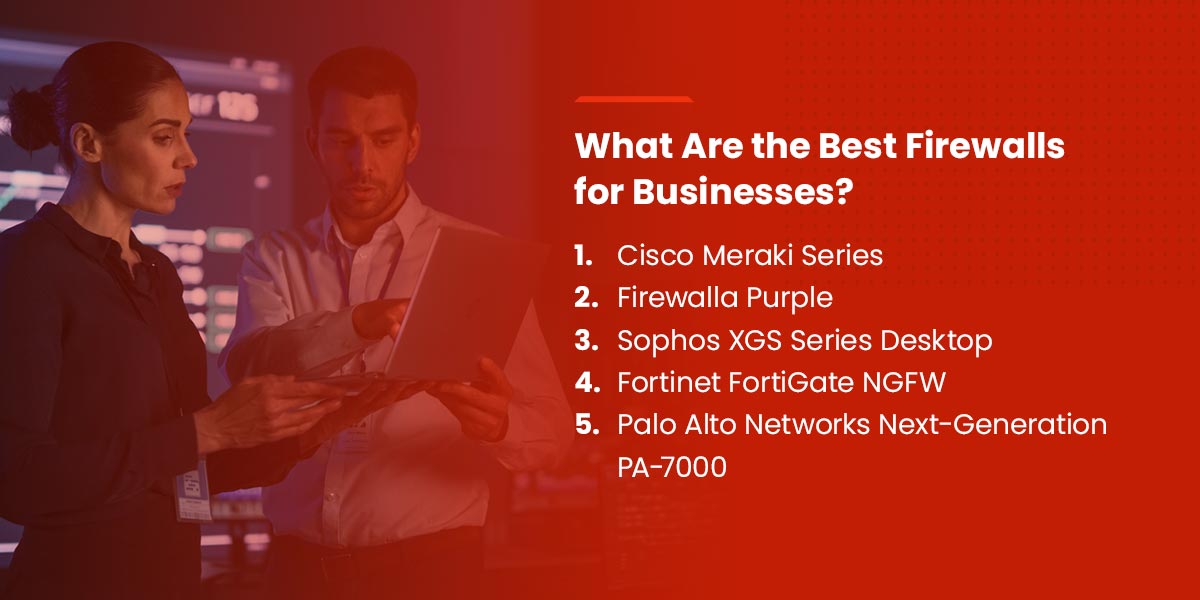 3. Sophos XGS Series Desktop
The Sophos XGS Desktop is an excellent next-generation firewall for small to medium-sized businesses (SMBs). However, the XGS line also offers various other models for large and enterprise companies.
This series employs Xstream technology to provide high performance and resiliency for systems of various complexities. As digital tools like software as a service (SaaS) and IoT become increasingly common in the business landscape, finding a firewall that can handle a more complex system becomes more important.
Some of the best features of the Sophos XGS Series include:
Zero-touch deployment: The cloud-based Sophos Central console makes deployment smooth and straightforward whether your firewall is in the main office or a remote location.
Deep packet inspection: Sophos XGS leverages Xstream technology to quickly inspect high volumes of network traffic, allowing it to identify and block malicious packets from entering your network. This process offers high protection without affecting the end user experience.
Ransomware protection: Sophos identifies and blocks incoming threats from diverse sources like emails, spam, downloads and phishing. It also leverages advanced machine learning (ML) capabilities to discover and stop attacks before they impact your systems.
4. Fortinet FortiGate NGFW
This series of next-generation Fortinet firewalls provides enterprise-grade network protection at an affordable price. It's lower on our list simply because some users have reported issues with the update process — many recommend waiting for a cycle or two before updating to let the developers work out the remaining bugs.
Key features include:
Scalability: As the global digital transformation ramps up, enterprise data creation will rise dramatically. FortiGate NGFWs were designed for hyperscale, so when your organization's data needs increase, you can easily scale your network to match.
Cybersecurity mesh architecture: The FortiGate operating system (FortiOS) employs a high-performance cybersecurity mesh platform that provides comprehensive protection across your entire attack surface.
High visibility: FortiGate's graphical user interface (GUI) is highly intuitive, which lowers the technical barrier to entry for non-technicians. You can continuously monitor your network status without needing to bring in a network specialist.
5. Palo Alto Networks Next-Generation PA-7000
The PA-7000 series of Palo Alto firewalls is an excellent choice for enterprise companies. The Next-Generation PA-7000 comes with a higher price tag than many other options on this list, but its full suite of security features justifies the cost.
Some of the firewall's many excellent features include:
SaaS and IoT security: SaaS applications and IoT devices are just as prone to attack as the traditional devices in your network. The PA-7000 series automates security protocols on all your apps and devices, securing your endpoints against external attacks.
SD-WAN functionality: The PA-7000 series makes adopting SD-WAN safe and simple — all you have to do is enable it on your existing firewalls. It also minimizes latency and packet loss, optimizing the processing experience.
Machine learning: The firewalls in this series leverage cloud-based machine learning (ML) to intelligently analyze and automate key security and connectivity processes such as network reporting and packet analysis.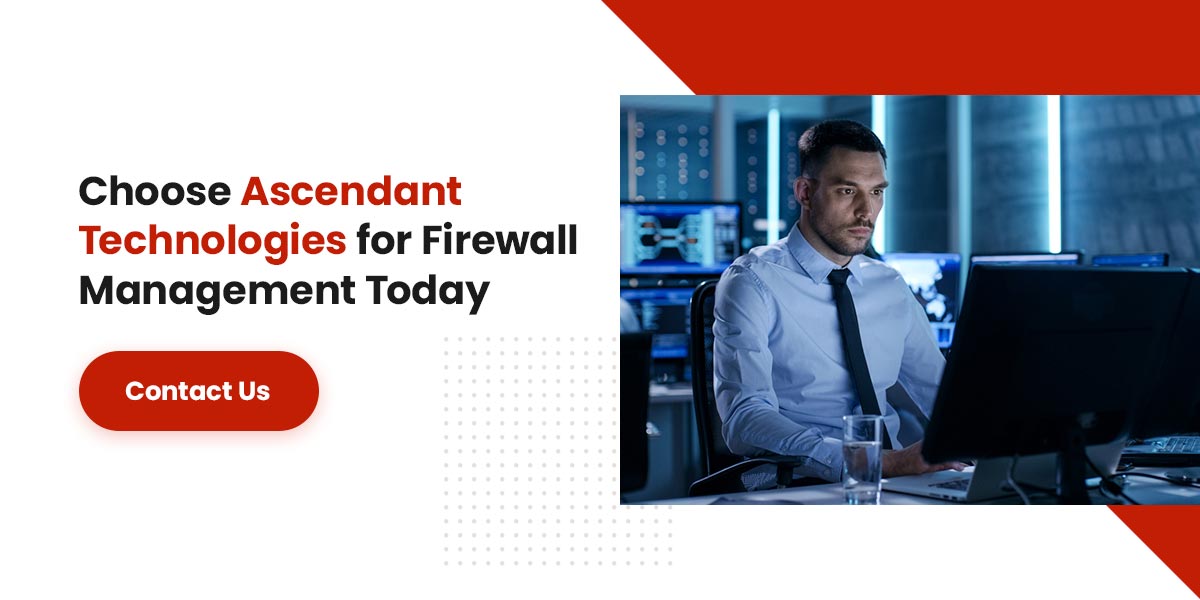 Choose Ascendant Technologies for Firewall Management Today
If you're looking for a network security solution, we at Ascendant are here to help you. Our managed firewall services take the burden of monitoring networks and maintaining compliance off your shoulders so you can focus on more critical projects.
Plus, when you work with us, you'll gain access to the latest and greatest cybersecurity resources — your network will be well-armed for the ever-evolving cybersecurity landscape.
Contact us online or schedule a discovery call today to discuss how Ascendant's firewall management services can help your company.