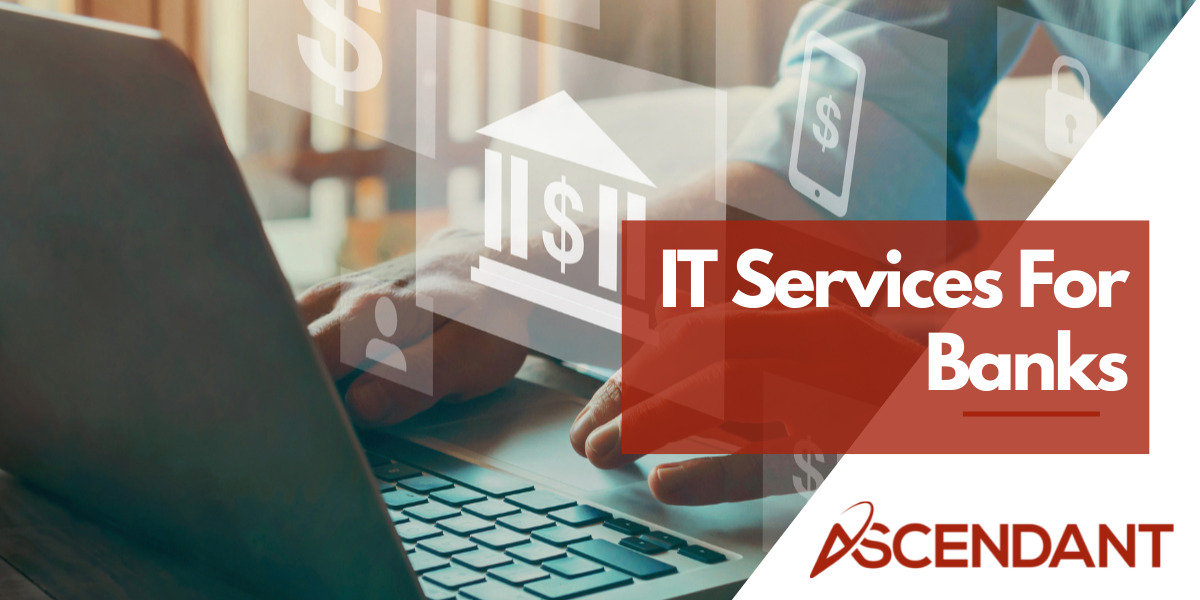 IT Services For Banks in New Jersey
Banks have come to rely on information technology (IT) for their day-to-day operations. IT services for banks are critical for performing tasks such as processing customer transactions, managing account information, and safeguarding financial data.
Ascendant Technologies is a leading provider of managed IT services for banks. Our team of experts can help you design and implement a customized IT solution that meets your specific needs. We offer a range of services, including:
• Network security
• Data backup and disaster recovery
• IT support and maintenance
• And more!
Benefits of Banking IT services
Many financial institutions are turning to banking IT services to help them get a leg up over their competition. The modern banking system is highly reliant on information technology (IT) in order to function effectively. In fact, IT plays a vital role in every stage of the banking process, from customer acquisition and relationship management to fraud prevention and compliance.
A few benefits of using banking IT services are:
• Improved operational efficiency: By outsourcing your financial industry IT needs to a team of experts, you can free up your internal resources to focus on other core business activities.
• Reduced costs: Managed IT services can help you save money on IT infrastructure and staffing expenses.
• Enhanced security: Banks are prime targets for cybercriminals. A reliable IT service provider can help you implement the latest security technologies and protocols to protect your data and systems.
• Business Continuity: In the event of a natural disaster or power outage, our team can help you get your systems up and running again quickly to minimize business interruption.
If you're looking for a reliable partner to provide banking IT services, contact us today!
Cybersecurity Solutions For Financial Institutions
Ascendant Technologies provides comprehensive cybersecurity solutions for financial institutions. Our solutions protect your institution from a wide range of cyber threats.
Our team of experts will work with you to develop a customized cybersecurity plan that meets your unique needs and addresses any existing cybersecurity risks in your financial company. We can implement the required IT changes to meet regulatory requirements. We offer a variety of banking IT services, including:
• Firewall and intrusion detection/prevention systems (IDS/IPS)
• Advanced EDR and anti-malware protection
• Web filtering and email security solutions
• Managed SOC (Security Operations Center)
• And much more
For more information about our cybersecurity solutions for financial institutions, please contact us today.
IT Solutions for Banking Industry
Banking is one of the most critical industries in the world, and it's crucial that this industry has the best IT solutions in order to keep up with the competition.
Ascendant Technologies provides managed IT services that are perfect for businesses in the banking industry. Our solutions are reliable and efficient, and we can help your business stay competitive in today's market. Ascendant has been working with banking clients for over 27 years, and our customer loyalty proves we deliver real business value and a competitive advantage as your strategic partner.
Optimize Banking Services With IT Management
By providing constant monitoring and maintenance of your systems, Ascendant can help ensure that your banking operations are running efficiently. This can have a significant impact on your business if you currently utilize legacy banking systems. Additionally, Ascendant Technologies will take a proactive approach to your bank's IT.
We can provide IT support for any issues, big or small. When we are notified of an issue going on in your business network, we address the issue immediately before it becomes a major disruption to your business. When you have Ascendant as your technology partner, you can rest assured that your banking services are being taken care of by experts who understand the importance of reliability and security.
Get Started With IT Services For Banks Today
If you're looking for reliable and professional IT services for your bank, look no further than Ascendant Technologies. Our wide range of banking IT services will meet your needs, and our experienced IT consultants are dedicated to providing your financial services business with the best managed services. Contact us today to get started and join our other financial institutions partnering with Ascendant!