Our Managed IT Solutions for Small Businesses
Small business information technology (IT) services in New Jersey enable companies to focus on furthering their businesses instead of spending valuable time and money trying to manage their IT departments themselves.
Ascendant Technologies, Inc. offers expert IT consulting for small businesses in NJ. We've served the tristate area with precise and efficient managed IT services for over 25 years, assisting companies across many industries.
Small and Medium Business Computer Support
Are you managing your own IT systems and trying to support your end-users in-house? Maintaining your systems in-house is an expensive option, especially for small businesses with a small number of users.
Ascendant Technologies, Inc. is a single-source for your IT support and management services. All our IT support and management services are provided for a single low flat rate. With our proactive management and monitoring strategy, we manage your systems 24/7. As an Ascendant client, you will have two dedicated network support engineers who understand your network environment inside out.

When you come to us for professional assistance, you'll enjoy the many advantages of our small business IT services:
Avoid increasing your payroll
Minimize employee downtime
Support engineers familiar with your company and staff
Get unlimited access to our IT support desk
Save money — eliminate the cost of hiring an in-house IT person
Ascendant has the solution to cut IT-related costs for your business. We will manage your entire business for a fraction of the cost of bringing in-house IT staff. You also benefit from a team of support engineers instead of relying on one person. Multiple heads are better than one, right?
Ascendant's customized IT management strategy is one way we like to separate ourselves from the competition. We have heard many times, "Our old IT guys didn't understand our business requirements." After managing IT in many different industries for 25+ years, we understand. Every business is different. Every business has a variety of network security requirements, hardware requests and critical response time needs. Ascendant will build a custom IT management and support strategy for your business.
Ascendant is your IT department. We will do everything your typical IT department can do and more!
Every business has computer issues. It's inevitable. How you respond and resolve those issues is what matters most. If you try to manage this on your own, there is a direct cost to your business. Employee downtime and lost efficiency hurt your business.
With Ascendant at the helm, all of your employees have access to our local IT support desk, network support engineers and a dedicated account manager. Our management software allows us to identify IT-related issues quickly, so your staff can get back to their job quickly.
Ascendant's Strategy to Managing IT for Small & Medium Businesses
Ascendant provides both a strategic and tactical approach to your small business IT. At Ascendant, we understand proper IT management is more than security patching, anti-virus software and support desk services. Ascendant's technology experts will meet with you regularly to develop a proper IT budget, define your hardware and software standards and identify any IT business risks.
As an Ascendant client, you will be assigned two staff members who will become familiar with your site. These specialists will visit your account and offer system maintenance, work on projects and provide end-user support. If any additional support is needed outside of the scheduled visit, our remote support desk is available to assist your users.
Benefits of Managed IT Services for Small Businesses in NJ
IT consulting for small businesses does more than just promote smoother technology operation. These services offer several benefits that can transform your company:

Boost productivity: When you hire experienced professionals to work on your IT systems, you'll minimize the risk of computer problems. When your technology functions properly, your staff can work more efficiently without IT-related interruptions creating downtime.
Remain competitive: Small businesses that invest in IT support have a competitive advantage against those that don't and can conduct business without IT issues holding them back.
Improve security: Cyberattacks can be devastating to small businesses. With IT services, you can ensure your most valuable data is secure and protected against threats.
Reduce expenses: Managed IT services enable you to cut costs by eliminating the need for in-house technicians who can cost upward of $85,000 to compensate. Small business IT support also minimizes IT maintenance and repair expenses.
Focus on what's important: Leaving your IT management to experienced professionals allows you to focus on what's important — running your business.
Why Choose Ascendant for Small Business IT Services in NJ?
Ascendant is dedicated to delivering IT consulting for small businesses in NJ that will help them succeed. Clients who sign on with us can expect to experience all the following benefits:

Custom IT management: We individualize our services to your business's one-of-a-kind goals and needs to create custom IT strategies that work for you.
Continuous monitoring: Our technical support staff will monitor your IT systems around the clock for 24/7 management.
Expert technicians: Ascendant requires our technicians to have at least five years of experience in the IT industry to provide the highest level of expertise.
What Are Small Business IT Support Services?
IT support services involve a third-party company assisting with a business's information technology-related needs. IT services help organizations optimize their IT systems, bringing value to their companies with capabilities like managed IT, network security, cloud computing and email support. Consulting firms typically provide IT support in two primary ways — fixing existing IT issues and implementing measures to ensure system functionality and prevent future IT problems from occurring.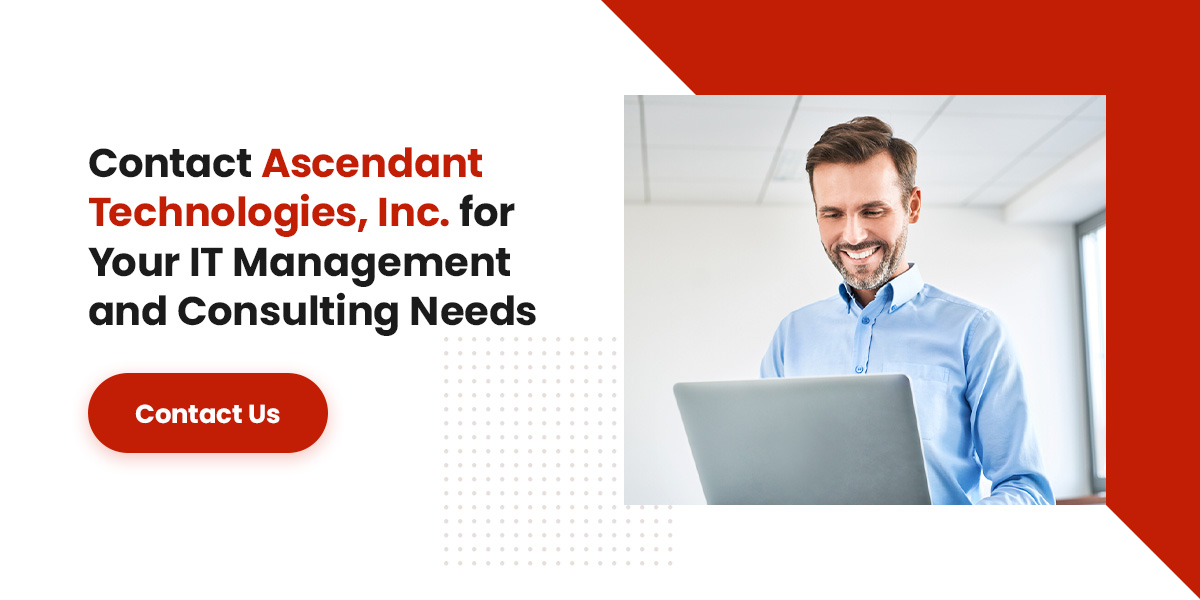 IT services are of optimal importance for small businesses. Though many small companies troubleshoot IT problems as they arise, this method can be expensive and time-consuming and result in losses that could have been prevented. Because these companies are smaller in scale, they are more heavily impacted by these losses than larger organizations. With managed IT services for small businesses, these companies can get the expert assistance they need to boost IT operating efficiency and security to help them thrive.
Book IT Consulting for Small Businesses in NJ Today
You can invest in IT support for your small NJ business with Ascendant. We help companies in all fields minimize downtime while optimizing their IT systems for the best results.
Contact us to get started with our IT services today!