Businesses across all industries rely on information technology (IT) to support their operations. Yet, managing a successful system can be challenging, especially on top of everything else you have to consider. Ascendant Technologies, Inc., is on a mission to supply exceptional IT services in Edison, New Jersey, helping small and mid-sized organizations innovate and expand their processes.
Work With the Best IT Service Company Around
Ascendant Technologies, Inc., is the preferred IT service company by organizations throughout Edison, New Jersey, and beyond. We've been in operation for more than 25 years, supplying tailored services to satisfy the demands of operations within various sectors. Our dedicated support is custom-built around your mission, focus, budget and challenges. Our partnerships with innovative companies like Microsoft allow us to offer affordable pricing while maintaining superior quality.
We hire only the most experienced engineers, consultants and technicians and train them to live up to the high standards we set for ourselves. Each of our professionals is based 100% in the United States and ready to deliver 24/7 support to your IT infrastructure. No matter what your business needs, you can count on Ascendant to deliver extraordinary care to protect your networks and limit expensive downtime.

Your Go-To IT Consulting Firm in Edison
Your current IT strategy should add to your operations — not drag it down. At Ascendant, we have the know-how to analyze your current situation and implement unique technology solutions to drive your operations forward. We keep our finger on the pulse of the industry and keep up with evolving trends. This means our consultants offer informed advice to give you a meaningful edge over the competition.  This is why so many businesses are choosing managed services in Edison, New Jersey.
Ascendant is the finest IT consulting firm in Edison. As your partner, we'll develop an effective strategy that aligns with your goals and decreases operating costs. We offer a range of consulting services you can trust, including:
IT strategy and planning: Formulate a dedicated plan with industry professionals to propel your business toward its long-term objectives. 
IT assessments: Receive feedback regarding your current approach to technology to better understand where you can improve. 
Risk management: Lower the risk of data breaches and other cyberthreats with a top-of-the-line security plan leveraging the latest software and technologies. 
Cloud migration: Relocate your data to the cloud for a highly secure and cost-effective information storage method. 
Compliance: Create a system that fulfills all local and federal standards with comprehensive risk assessments.

Our Comprehensive Managed IT Services
Ditch your current IT department for a streamlined managed service provider (MSP) like Ascendant Technologies, Inc. We have the expertise to handle the demands of your business's IT network and provide a white glove service to create a custom management plan. We'll seamlessly integrate within your business, offering 24/7 remote support and scheduling on-site visits with our certified IT consultants to supply recommendations.
Our service begins with a free IT audit. We'll learn the ins and outs of your operations to identify your strengths and areas worth improving to create a secure and efficient network. Our engineers, account managers and consultants will get to work on creating a sustainable solution specific to your industry. Our suite of offerings falls within the following categories:
Server maintenance: We'll watch over your server nonstop, ensuring your operations run smoothly even when you're out of the office.
Cloud services: You can save time and money with an IT infrastructure based out of the cloud, making it easier to update, maintain and access your files wherever you are.
Security: We'll lock your system down tight to block hackers from stealing valuable data — without compromising the usability of your network.
Support desk: Our team will troubleshoot any challenge you're experiencing and get you back to work in no time.
Server management: We'll deploy non-intrusive software that will monitor your network around the clock to proactively discover potential issues before they do significant damage.
Contact Ascendant Technologies, Inc. for Your Edison, NJ, Business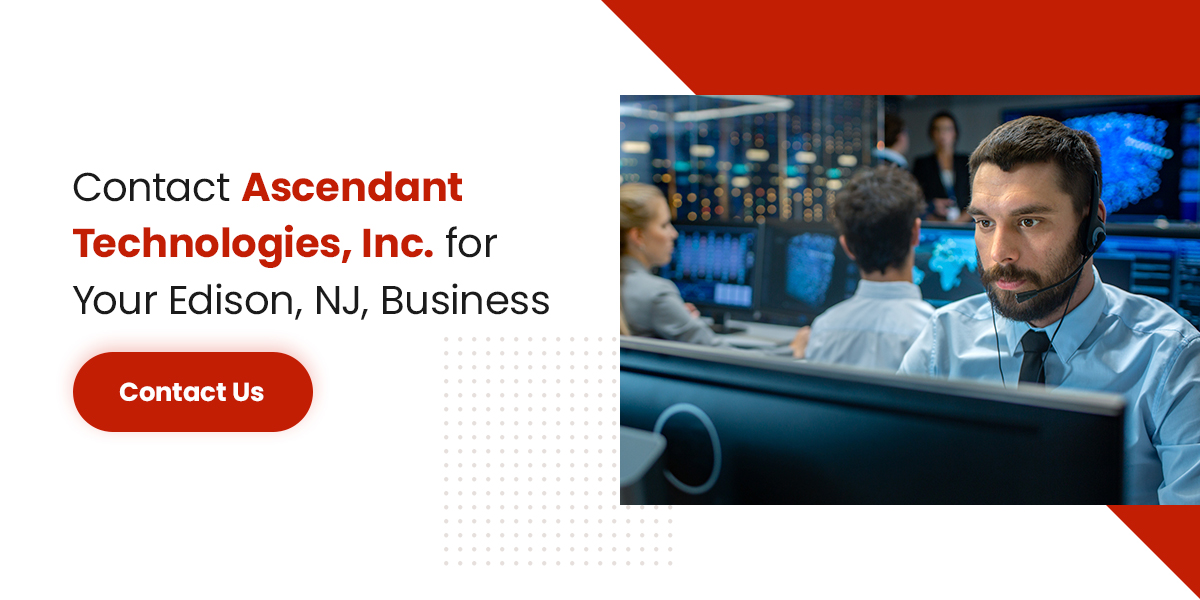 At Ascendant, we value honest and open communication and believe it lays the foundation for a long and prosperous partnership. We encourage you to contact our team to speak with a team member about the value we can deliver to your business.