As a business owner, you need a technology partner to support you while protecting and managing your systems. At Ascendant Technologies, Inc., we offer various IT management services to help businesses thrive in a digital world.
What Ascendant's IT Services Can Do for You
Whether your business is small, medium or large, you likely need IT services. While you can hire a full-time IT staff to work on-site, a cheaper and more effective option is to choose managed IT services. Managed service providers or MSPs can be completely outsourced and help your company with various IT needs, including security and cloud backup.
You can still utilize our IT management in Morristown, New Jersey, if you already have an IT department. Using managed services providers in a comanaged capacity allows you to free up internal resources to focus on daily operations. Another way Ascendant's IT services can benefit your business is by helping you improve your security with various services, ranging from threat detection to intrusion prevention. By working with our team, you will have the peace of mind that your business is secure from cyber threats.
Why We're One of the Best IT Consulting Companies in Morristown, New Jersey
IT is a complex and ever-changing industry, and your business must be able to keep up with the latest trends to stay ahead of the competition. As you look at various IT companies in Morristown, New Jersey, for your IT consulting and management needs, you'll find that few offer as complete access to an entire team of dedicated IT professionals who are continually up-to-date on the latest IT advancements as Ascendant does.
In addition to access to our professional team, our IT consulting services offer benefits such as:
Reduced downtime
Improved technology solutions
Ongoing maintenance on equipment such as servers and desktops
Regular on-site visits from our IT professionals
Network security support
Unlimited access to our IT support desk
24/7 management and monitoring of your IT infrastructure
How We Take Control of Your Managed IT Needs
When you choose managed IT support from Ascendant, we will help you maintain and enhance the most important elements of your IT systems to help your business achieve its goals. As a top IT company in Morristown, New Jersey, some of the many benefits we offer include:
System security: By working with Ascendant, you can protect your business's infrastructure with secure yet easy-to-use network security.
Cloud services: Our team will help you move your routine system maintenance, security and updates to the cloud to give you and your employees access to essential files while saving your company time and money.
Professional server maintenance: We can help your server continue to operate correctly for years after installation with our monitoring, patching and storing services.
Server and desktop management: Our team will provide 24/7 system monitoring by installing a non-intrusive software agent. This software will enable us to act proactively if any underlying issues occur and offer real-time alerts if a problem arises to reduce the risk of downtime for your company.
Remote support desk: Our remote support desk services allow your team to contact the specialists they need quickly. By using our remote support desk services, you will have support with any company device under our managed services plan, and we will remain on the line until we fully resolve the issue.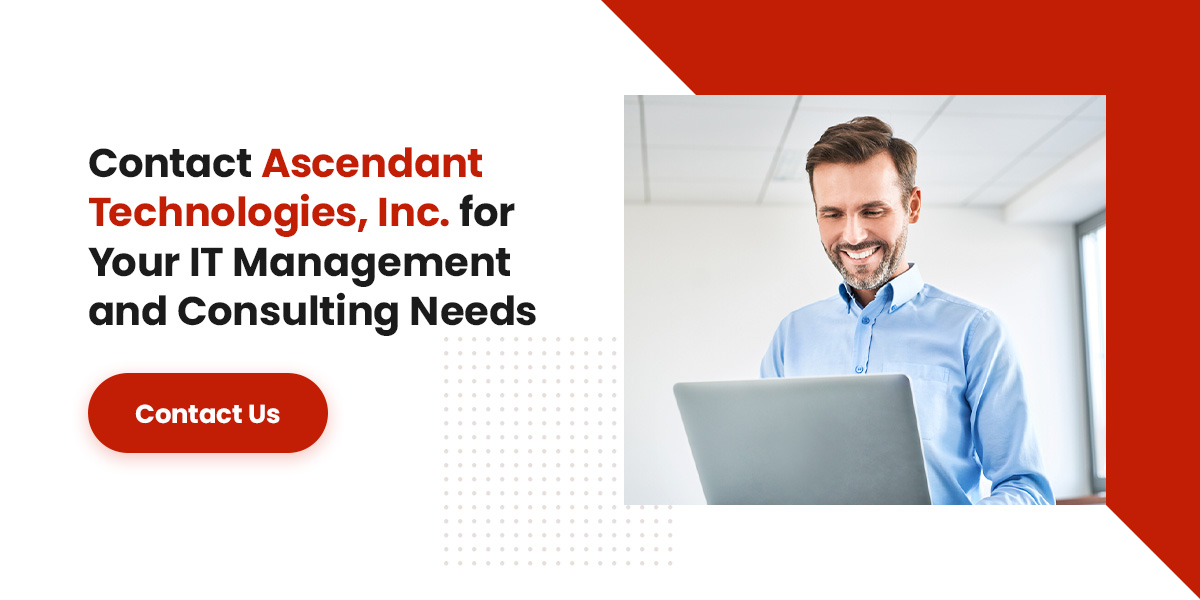 Contact Ascendant Technologies, Inc. for Your IT Management and Consulting Needs
With over 25 years of experience, it's clear why we are a top choice for many businesses in Morristown, New Jersey, for all their IT management and consulting needs. To provide the most benefit for our clients, we hire the top engineers and will work with your business to create a personalized IT strategy so that you have the services you need. Complete our online contact form to learn more about how we can help you improve your business operations.