Whether you need advice about your network or want a comprehensive IT management service partner, working with Ascendant Technologies, Inc., is the best decision you can make for your business. We are the premier IT support service provider in the Princeton area, offering tailored solutions to drive your business's operations forward. Trust us to optimize your IT infrastructure and allow you to take your business to new heights.
We have a long history of assisting businesses across many different industries, including:
Healthcare
Manufacturing
Financial
Real estate
Law offices
Education

Ascendant Is on a Mission to Help Businesses Like Yours
At Ascendant, we have over 25 years of experience in managing IT systems for companies of all kinds. Over the years, we've come to create an effective process that supplies custom strategies aligning with business objectives and industry demands. We've designed our services to free up your time, enhance your on-the-job efficiency and minimize costly downtime.
When you work with us, you can count on cost-effective pricing that doesn't sacrifice your bottom line, made possible thanks to our many partnerships with innovative technology companies like Microsoft and Azure. We're driven by our staff's years of experience, in-depth training and commitment to expanding their knowledge every day. With our team by your side, you can expect benefits like:
24/7 support
Expert advice
Personalized IT solutions
Partner With a Leading IT Consulting Company in Princeton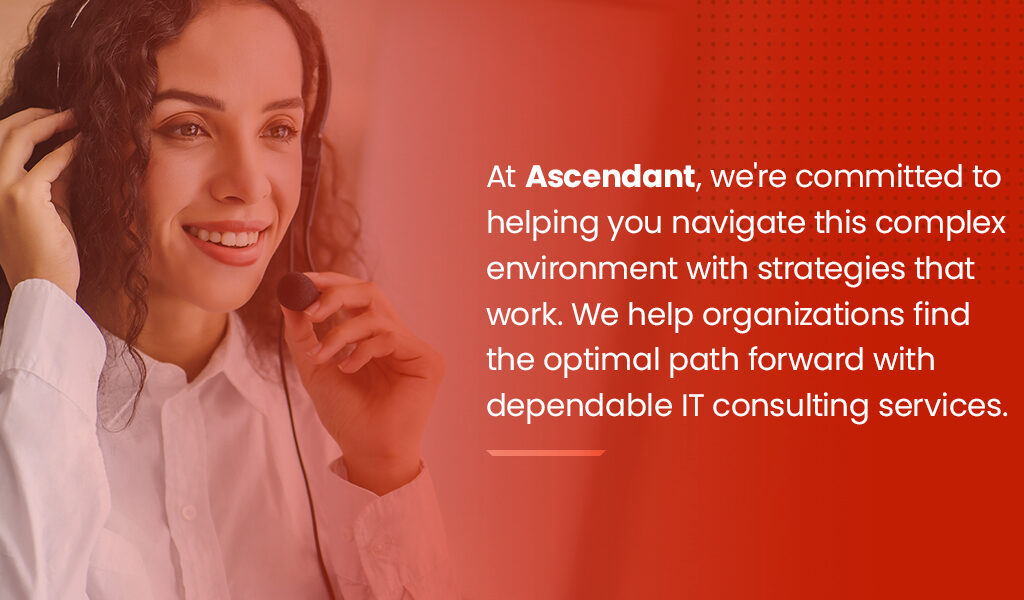 Technology is crucial to any business in the modern world. At Ascendant, we're committed to helping you navigate this complex environment with strategies that work. We help organizations find the optimal path forward with dependable IT consulting services. Our team will analyze your current plan and evaluate the efficiency of your infrastructure design before implementing advanced technologies that support your needs.
Ascendant Technologies, Inc. provides consulting throughout Princeton, New Jersey, to help business achieve their goals and revamp their IT systems. With our vast expertise, we extend countless types of consulting services, including strategy and planning, assessments, cloud migration, risk management and compliance. Working with our dedicated team will provide you with numerous advantages:
Strengthen network security
Decrease costs dedicated to IT support
Enhance employee productivity
Acquire enthusiastic assistance
Reliable Managed IT Services in New Jersey
Ascendant has your back if it's time for a change in service providers. We provide award-winning managed IT services to take your IT infrastructure up a notch. We'll take the stress of managing an entire network off your shoulders so you can save time and money while you focus on developing new products that satisfy your customer's needs. Our team consists of accomplished engineers, consultants and support staff, capable of supplying countless services like:
Server maintenance
Cloud services
Server and desktop management
System security
If you run into an issue in any of these areas, our team is just a phone call away and ready to provide immediate assistance to keep things running smoothly. Since our entire staff is based in the United States, we maintain around-the-clock oversight to monitor server health, scripts, patching and storage. We'll support you remotely with dedicated help desk support and visit your location to ensure your network is handled.

Get in Touch With Ascendant
Ascendant Technologies, Inc., is your go-to IT service partner to launch you toward all your business objectives. With consultants who understand the inner workings of IT, you can rest easy knowing we'll find a solution that decreases operational expenses and gives you an edge against your competition.
If you're ready to get started with any of our IT services in Princeton, contact us online or give us a call at (732) 641-6052 to discover more about how we can help.