As companies continue to rely on technology, IT services are more critical than ever. IT services allow businesses to manage and access important operational systems and technology. Whether it's cloud services, communication capabilities or network security, IT services keep your business's technology running smoothly.
Learn More About Our IT Management Services
Many companies hire one or two IT specialists for their technological operations. These employees use their technology expertise to troubleshoot any IT difficulties. However, larger businesses often require more comprehensive IT services, and some businesses with no IT help might want a more straightforward solution.
This is where another option for IT services comes in — managed IT services. Managed IT services are outside sources of IT help, offering direct technology services for your company at a flat monthly fee. These services allow businesses to focus on other operations as they leave their IT needs to outside professionals. Here is an overview of why your business needs managed IT services.
What Are IT Management Services?
IT management services are outsourced IT solutions, usually run via cloud software. Your business can save valuable time by not having to train employees for IT capabilities or scout for IT technicians. Instead, an expert out-of-house team monitors your software and offers tech support whenever you need it.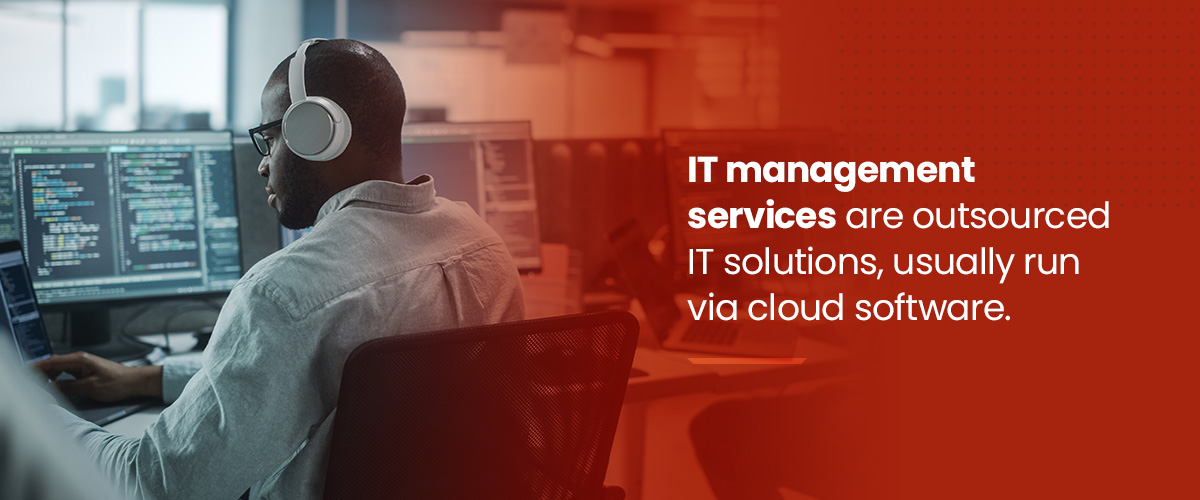 Here are further explanations of IT management services:
What Does a Managed Service Provider Do?
The remote management teams monitor your company's networks daily. They troubleshoot any potential problems and are always available to answer IT-related questions, usually through email or a phone call. If the management team notices any issues with your server, the team resolves them quickly and efficiently.
For example, if an employee has trouble connecting to the Wi-Fi server, they could call the company's managed service provider. The provider would walk them through the internet connection process and offer tips on how to resolve the situation. In no time, the employee would fix their connectivity issue and resume work.
The specific nature of the services depends on what your company needs. For instance, some businesses might want IT management services for all aspects of their technology, while others might just want services for security purposes.
What Is Included in Managed IT Services?
After agreeing to work together, IT management professionals usually create a detailed contract for clients. This contract outlines the extent of services they'll offer, how long the services will last and other considerations of their assistance.
Because contracts vary by business and the client, the inclusions of your services might differ. Here are some common examples of what an IT management service can include: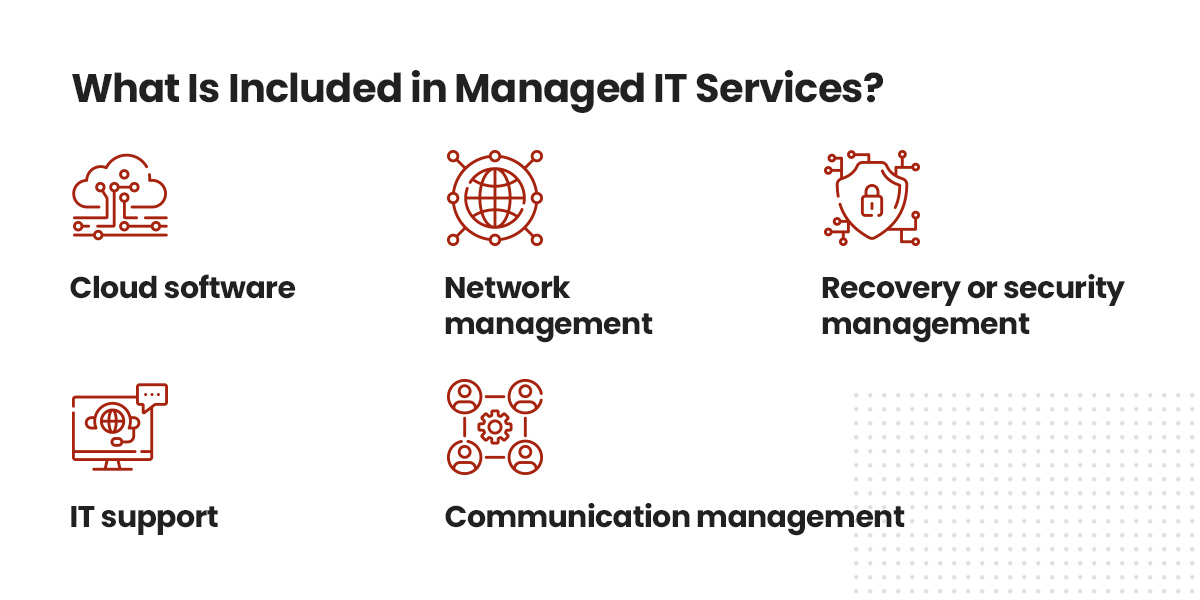 Cloud software: Many companies have switched to using cloud-based storage. It's quick and highly secure, allowing you to access files or other data instantaneously. Luckily, many IT managed services offer comprehensive cloud services. Your service team can keep your cloud updated and free of security breaches or hardware failures. With all of the cloud management in the IT team's hands, you can use your software with ease.
Network management: A company's network can consist of many things, but it usually contains a centralized server managed by routers, switches or other wireless controllers. The network contains essential software and data. Several IT service providers offer network management capabilities. In addition to monitoring the network for threats, service providers might also analyze data and update the system for improved performance.
Recovery or security management: Types of security breaches like malware are the biggest threats company networks face. Without the proper security protections, bad actors might be able to hack into network systems and steal important information or even break down the entire system. Luckily, IT technicians specialize in monitoring and addressing malware threats. An IT management service can monitor company networks for threats at all times and help install high-quality security software.
Communication management: Whether businesses install cloud-based software or only rely on email, communication systems are crucial for keeping in touch with employees. Many IT managed services offer communication management, which ensures messages send smoothly and securely and the server stays online.
IT support: One of the most significant benefits managed IT services can provide is constant IT support. With these services, your business has access to a specialized technology service team. The remote team monitors and manages your technology systems, ensuring they run smoothly throughout the day. These services are available for all members of your business — if an employee is having difficulty with connectivity or another technological issue, they can call the services' help desk for a quick resolution. Many management services also offer visiting technicians who can stop by and troubleshoot in person.
Overall, managed IT services can take on different forms, and companies usually work with their IT providers to find the best services for them.
What are the Pros and Cons of Managed Services?
With the right IT management services, businesses can focus on other essential aspects of the company and leave their IT needs in capable hands. But deciding to invest in IT management services is a big decision with many factors to consider. Therefore, companies might want to weigh the pros and cons of a managed IT service before deciding which path to take.
These are some possible drawbacks and benefits of managed IT services:
Pros
There are several benefits of using managed services providers. Without the hassle of scouting, hiring and training an IT technician, companies save time and money. Additionally, managed IT services can be as comprehensive as you need, so you don't have to worry about anything important being left out.
Here are more benefits of service providers:
Proactive assistance: Most managed IT services work proactively, which means they monitor for problems before they arise. Then, they resolve the issue before it can become detrimental to the company. This consistent monitoring saves a great deal of time and resources for companies — potential problems could grow to be large-scale security breaches or other similar concerns. By working proactively, IT service providers reduce long-term issues.
Comprehensive expertise: Managed IT providers usually consist of a dedicated team of IT technicians. These technicians are highly trained in various areas, often expanding further than your company's system. Because of this, these specialists are likely to resolve most of your technological issues. Their expertise might be greater than that of an IT technician trained just for your company. From a non-responding server to a broken printer, managed service providers have a comprehensive ability to help.
Technology might be included: Some service providers furnish companies with their technology. This way, the service providers can provide expert insight into their company-specific hardware. Receiving all new technology might also upgrade your company, allowing your systems to work more efficiently.
Protection against disasters: Natural disasters are devastating for communities. Whether it's a flood damaging an office or an earthquake disrupting your systems, management service providers have extensive training in how to help. They can help you create a recovery plan and even assist with retrieving lost information. During disasters, this service is critical for a company to get back on its feet.
Minimized overall IT costs: With all of your IT services streamlined into one team, you save on IT services in the long run. Your providers can resolve issues quickly and efficiently, saving you time and money. If you don't have an IT service in place or just have one or two technicians, you might not be able to find the answers you need. However, with an expertly trained team on-call, you can get solutions in no time at a consistent and transparent cost.
Reduced downtime: So many businesses rely on digital systems for internal and external processing. When a system falters or goes down, your company loses critical productivity time, which can translate into a loss of revenue. With a management service system in place, the 24/7 technicians are likely to resolve downtime in just a few minutes. In fact, periods of downtime might not occur in the first place with the improved efficiency and proactive techniques.
Heightened security: Your IT service management team can ensure your systems are updated with the latest security firewalls and updates. They can also recommend or install a stronger security system if yours is outdated. Your provider can keep you updated with security notices and prevent potential network breaches.
Altogether, the many benefits of managed IT services will improve your business's efficiency and safety.
Cons
Some businesses might find that managed IT services aren't the right fit for them. While there are far fewer cons, you should still understand the potential obstacles you may face when hiring managed IT services. Businesses might run into potential disadvantages with the setup, such as:
Trouble with remote services: Some IT services offer both remote and on-site services. In these cases, you have constant remote support via the phone or online messaging along with in-person visits from technicians. However, some managed IT services are solely remote. While remote services are convenient, you won't have on-site service for an immediate fix for physical malfunctions, such as a computer crashing. And in an emergency where communication is more difficult, such as an internet outage, it'd take longer to reach your provider. If having onsite services is important to you, you can look for packages that offer onsite help in addition to online services. Many local or regional managed IT services provide on-site benefits.
Significant investment: A managed service provider has many benefits for your company, but it's an investment. In addition to a monthly fee, you might pay extra installment fees and other costs. Still, your company is vulnerable to malware and other security breaches without a strong IT service provider — and the investment is worthwhile. Although the price might seem surprising at first glance, IT management services are usually more cost-effective than hiring internal IT technicians. These services are also more streamlined — instead of recruiting, hiring, paying taxes and other internal processes, you have one fixed payment for your IT services. As a result, managed IT services often prove to be more affordable than the typical IT hiring process.
Limited scope: If you use company-specific technology or other third-party systems, your managed service provider might not be able to assist with them. Alternatively, they might specialize in a particular software when you're suited to a different one. Luckily, there are a variety of providers available, and you're sure to find one that knows your software if you search in the right places.
Ultimately, choosing a managed IT servicer depends on how much you rely on technology and how your usage will change in the future. If you depend heavily on technology, you'll likely see a return on your investment. Be sure to analyze your current processes to determine whether managed IT services would be the right fit for your company.
Why Are Managed Services Important?
The advantages of managed IT services can help your business now and in the future. As our reliance on technology continues growing, having the right IT system in place becomes more vital than ever.
It's always good practice to analyze your current information technology setup and explore how you could further improve it. In doing so, you stay updated with current security measures and other important updates that improve your business's efficiency and security.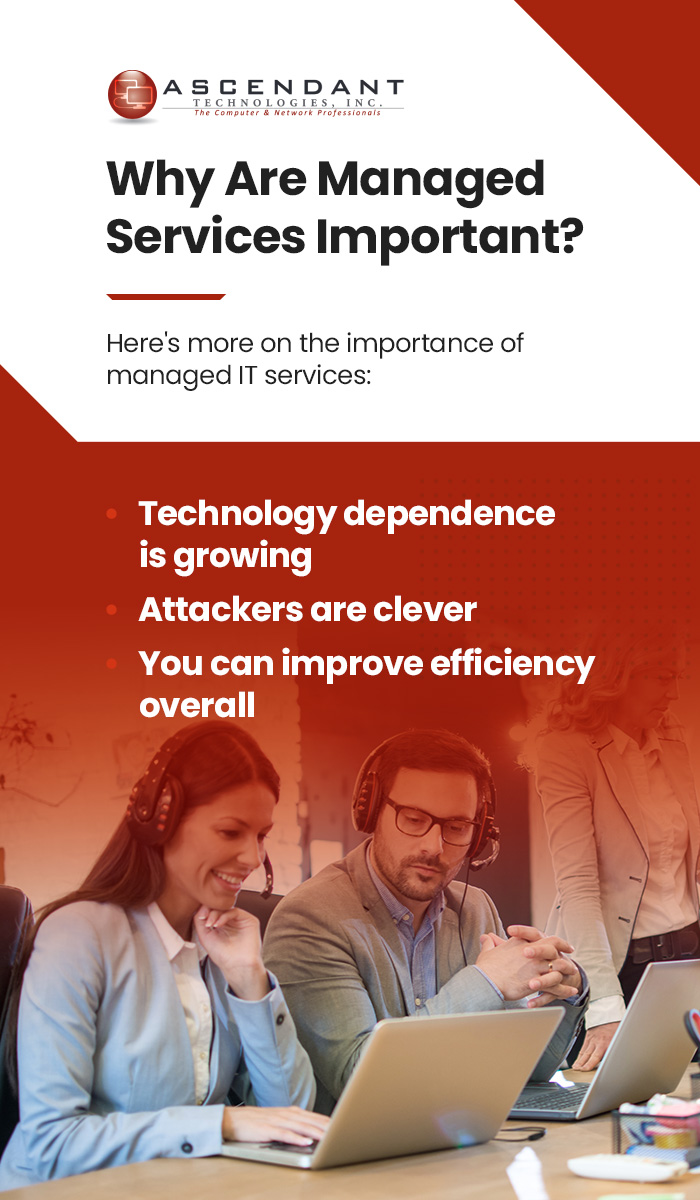 Here's more on the importance of managed IT services:
Technology dependence is growing: Technology will continue advancing over the coming decades. Most businesses rely on computer systems for nearly every aspect of their operations, and this reliance will likely grow even more expansive. Having a strong IT provider in place is crucial to keep up. These management services can help you stay updated with network upgrades and security improvements, ensuring your organization remains functional and profitable.
Attackers are clever: As technology gets smarter, so do attackers. Hackers keep finding new ways to break through security defenses and steal information or crash servers. Whether they steal money or critical company information, these attackers can severely harm your business. With the right IT management service in place, you can protect yourself against bad actors and prevent issues in the first place.
You can improve efficiency overall: As a business, one of your main focuses is productivity. Getting your work done efficiently creates happier consumers and more revenue overall. A managed IT service can also help improve your efficiency by keeping your systems online and updated. Instead of puzzling over IT questions, you'll have more time to focus on running your business.
Managed IT services can lower your IT stress, allowing you to focus on your business instead. It could be the solution you need to keep your company's technology safe and modernized.
Contact Ascendant for Managed IT Services Today
At Ascendant, we understand the necessity of high-quality IT services. That's why we provide custom IT solutions at all levels to enhance your business operations. Our certified technicians and over 25 years of experience will deliver the IT service you need.
Ascendant's managed IT services offer top-notch protection and monitoring for all of your company systems. We know that no two businesses are alike, so we provide custom service solutions according to your needs. Ascendant's services will protect your company from malware and keep your servers updated and efficient.
A few examples of our services include:
Remote support desk, available for nonstop support
Desktop and server management
Server maintenance
Cloud services
Our managed IT services go beyond typical restrictions. We offer immediate services, both online and on-site. Additionally, our services are cost-effective, set at a fixed budget that allows you to plan for exact IT costs. Our 24/7 monitoring and immediate assistance are worth the initial investment. You'll have constant access to our team, who have extensive training in a diverse, industry specific software.
If you're interested in learning more about Ascendant's managed IT services, schedule a call with us today. We look forward to finding the IT solution that's best for you.