Efficiency in a medical practice is essential. Patients appreciate quick services that meet their needs, helping create a positive experience with your practice. Investing in efficient processes and changes can help you meet several goals for your practice, from retaining existing patients to expanding.
7 Ways to Improve Office Efficiency
If you want to know how you can make your medical practice more efficient, you can learn many new habits. From your administrative assistants and receptionists to the nurses and doctors, you can make changes across your office for increased efficiency.
1. Outline Current Processes and Interactions
The first step in creating a more efficient medical office environment is to identify areas that need improvement, which you can do by understanding typical workflow habits and processes. You can measure how long different steps along the patient journey last, from arriving and checking in to paying at the end of visits. Further, employees can report how long tasks might take them, like going over vitals with patients or making appointments.
Having a clear understanding of current processes can help highlight processes that can use improvement. You might notice things you are already doing well, so you can save time by shifting your focus to other areas you might be overlooking.
2. Digitize Patient Forms
Patients have to fill out various forms when they visit your practice, from onboarding forms asking for general information to insurance and health questionnaires. Offering these forms online can benefit your practice and your patients.
Digital forms attached to a patient account can help automatically populate data the patient has already provided, like their address or insurance information. Instead, digital forms only require patients to confirm that everything is correct and up-to-date. A digital system can help streamline this process for patients, taking less time before each visit and allowing them to see the doctor sooner. When forms are easy to fill out and intuitive, patients can have a more positive experience at your practice.
This solution is perfect if you want to know how to improve your medical front desk performance. Digitizing forms means that your administrative employees have access to information as soon as patients submit documents instead of manually inputting data. Automatic data input can also increase reliability, decreasing the chance of mistakes caused by manual errors or omissions.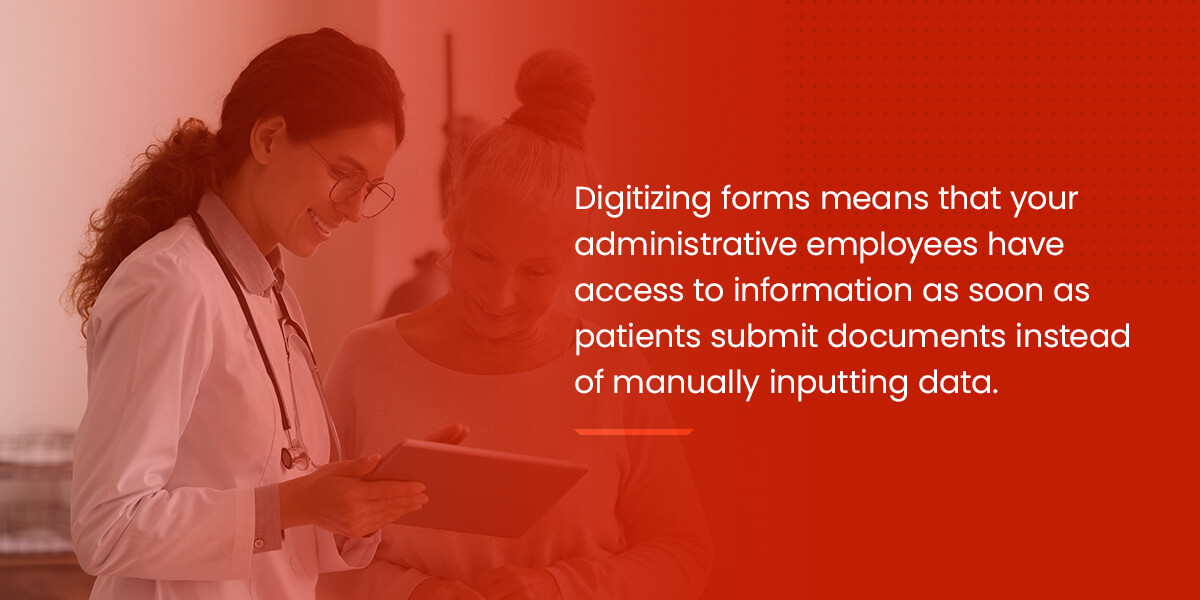 Further, digital forms and uploads mean that medical professionals will have access to information quickly. Nurses and doctors can receive any vital data that patients disclose immediately, allowing them to streamline visits and avoid repetitive questions.
3. Consider Telehealth Options
Telehealth services are excellent if you want to increase your accessibility and cater to your patients' schedules. Patients are busy, and commutes can cause them to set aside several hours of their day to get medical care. Many providers offer secure and safe telehealth services where doctors and nurses can connect and speak with patients via video calls about their concerns.
While this option can provide more services to your patients, it can also help medical professionals. You can offer screening questions ahead of time to keep the bulk of the visit on the problem, allowing for efficient visits that keep doctors on schedule and ready for their next visit.
4. Automate Manual Processes
Like with digital forms, you can automate many manual processes to improve your medical practice efficiency. Automation is especially useful when paired with communication. You can send out automated reminders to your patients about upcoming appointments or when it is time for a follow-up. Your patients can select their preferred communication method, and your automated solution can send them a call, text or email based on those preferences.
Automated solutions can also help you track your overall efficiency. They often collect employee performance data and present that data to help highlight inefficient processes, helping spark continual improvement.
5. Let Patients Schedule Appointments Online
Many patients like to control as much of their experience while optimizing efficiency. Appointment scheduling is a great way to help give some of that control back to patients and lessen the load on your receptionists. Your administrative team will no longer have to wait for return calls or emails to confirm appointment times.
Online portals can let customers see all the available appointment slots to choose the one that works best for them and their schedule. These systems can also make it easy for patients to cancel or change appointments. Email or text confirmations can help verify that they have signed up for an appointment. Online scheduling offers more flexibility to patients who may only have time once the workday is over.
6. Collect Patient Surveys
Because so much of improving medical office efficiency is for your patients' benefit, the best source of feedback and information can be your patients. Consider sending out surveys to your regular patients or after every appointment, asking them what they do and don't like about your clinic and any feedback they might have. You can receive vital feedback from your patients and gain better insights into their needs.
If you automate communications, your software can complete this task so your receptionists can focus on other essential duties. Using technology to boost healthcare efficiency can cover several tasks to assist your administrative employees.
7. Outsource Tasks to Experts
If you want to know how you can make your medical office more efficient, outsourcing specific functions can help lessen the load on your employees and the training they'll need. Your nurses and doctors already have much to handle between patients, prescriptions and tests. Administrative assistants and receptionists can help with some responsibilities, but they might require training or experience to carry out tasks well.
Hiring a third-party company to handle these tasks can provide you with expertise and quality services for your essential systems. Consider outsourcing for the following:
Marketing
Training and human resources
Billing, coding and insurance claims
Partnering with experts means that they can offer you efficient services while opening up time in your office for essential tasks.
Contact Ascendant for Managed IT Services Today
Understanding where you can apply efficiency to your medical office is essential. When you know how to improve medical practice efficiency, you can determine what tools and services you might need to invest in to make your goals become a reality.
Ascendant offers many IT management services with experience in several industries, including the medical field. Our IT Helpdesk Services connect your medical office employees with trained IT professionals to help them troubleshoot problems, solving them efficiently so you can continue to offer your patients the best services.
When you partner with us, our 25 years of experience ensure that we can meet your practice's needs and offer solutions to increase your efficiency. We provide HIPAA-compliant solutions so you can continue to protect your patients' sensitive information. When you invest in services from Ascendant, you can save time and money compared to hiring and onboarding an in-house IT team while receiving quality care.
Contact Ascendant today and discover how our IT teams can help your efficiency goals.