What Does an IT Managed Service Team Do?
A managed IT services team performs end-to-end IT services for businesses. When you hire a managed service provider they fulfill the role of an outsourced IT department for a flat monthly fee. Small and medium businesses outsource their IT department when they don't require full-time technical resources.
15 Tasks A Managed IT Services Company Provides:
Outsourced IT Helpdesk Support
Does your staff need support in an instant? Using an IT helpdesk for support is the answer. Managed IT service providers can provide a team of IT experts to troubleshoot issues on demand. There are many benefits to using a remote help desk versus trying to build an in house team such as lower operations costs, vetted IT professionals, increased productivity, and the confidence that your systems are being fixed correctly. Your managed service provider is always a phone call away for support services at any time!
Onsite IT support
When you hire a managed IT service provider team, they can dispatch an IT technician to your offices within your service level agreement when you're having issues with your IT. This is a significant benefit to small and medium-sized businesses, large or small. We recognize that everything isn't going to be fixed remotely. Getting the right IT resources that are familiar with your IT infrastructure will reduce downtime drastically.
Cyber Security
A managed IT service team can provide your business with comprehensive cybersecurity solutions. Depending on your industry, regulation requirements, and IT goals, your managed services provider can develop a cyber security plan that works for your business. Most IT companies can provide your business with managed firewall services, antivirus/EDR, managed SOC, and more. Your managed services team can create a custom managed security services package to address your specific cyber security concerns.
Network Monitoring
Your managed IT services team will proactively monitor your network activity. The team will use remote network monitoring tools to report back the status of your IT infrastructure. When using a managed IT service team with real-time remote monitoring & reporting, they'll reduce your overall downtime as the team is notified immediately to begin troubleshooting any issues within the network.
Patch Management
Isn't it time-consuming to update and patch all of your company systems? Of course, it is. A managed IT services team will handle patch management for all software, hardware, and other network devices. The managed services team will automate this process through software so all patching can be completed during non-working hours. Patch management is critical to every business's security. You can be confident that your managed services provider is aware and actively patching your company systems when new patches are released.
Desktop Management
Who's managing your company's desktops? If you have a managed IT service team, they'll be your go-to resource for managing, maintaining, and monitoring your company desktops. Your dedicated services providers will actively monitor the systems for health and efficiency. As well as run general maintenance scripts and updates to improve performance. Need help with a computer? Call your managed IT service team, they're familiar with your system and will render technical support on all managed desktops.
Server Management
Managed IT service teams to provide all-inclusive server management solutions. The team will ensure that your servers are running reliably by patching, monitoring, and managing them to industry standards. Your company server is not meant to be run on autopilot, engage a managed IT service team to ensure your systems are being professionally managed by experts.
IT Consulting
Managed IT services teams offer IT consulting for expert insight into your specific company's technology requirements. Most managed service packages include consulting, such as identifying the right hardware, making general security recommendations, and more.
vCIO Strategic Guidance
Virtual Chief Information Officer (vCIO) services provide organizations with the same expertise and guidance of a traditional CIO, but at a fraction of the cost. Managed IT service providers can offer this service to businesses that might otherwise not have access to such expertise. A vCIO will work closely with an organization to create a technology roadmap that helps them align their IT strategy with their business objectives.
IT Projects
Your managed IT service provider should be involved in your IT projects. Managed service providers are familiar with your IT infrastructure and the goals of your business. This allows them to bring their expertise to the table and craft solutions that work best for your business. Your MSP can make recommendations, order hardware/software, install, and manage the technology long-term. This brings a true white glove experience to your business.
IT Budgeting
Your managed IT service team can provide all-inclusive IT budgeting in your managed service package. While using IT budgeting services your business will be able to allocate your resources more efficiently. Building an effective IT budget allows you to forecast throughout the year, and move projects along faster. A common form of IT budgeting is having the funds secured for your company's computer lifecycle, meeting those objectives, and sticking to a replacement schedule.
Backup & Disaster Recovery
When disasters strike, you should turn to your managed IT services team. They actively are backing up your desktops, servers, and other critical IT infrastructure. Depending on the managed service provider, they will have a variety of different disaster recovery solutions such as Datto, Veam, or hot swap hardware.
VOIP Phone Support
VOIP phones can be complicated to manage on your own. A managed IT service team can help you set up a new phone system or make changes such as call flow, auto attendant, new voicemail greetings, and much more.
Third-Party Vendor Support
Nobody likes to be stuck on the phone waiting for a support representative. Luckily, your managed IT service team can reach out to third-party vendors on your behalf. Never again will you have to hear tacky hold music. Use the managed services team for Microsoft, Adobe, Ultra Tax, Quickbooks, Autocad, and any other third-party vendor you engage with.
Maintain Compliance Requirements
Achieving specific compliance requirements is no simple task. Once you get there, maintaining those requirements is just as challenging. Using a managed IT services team they will monitor, maintain, and manage your entire IT infrastructure as well as implement state-of-the-art cyber security solutions to protect your business. By doing so, they continue to enhance your IT posture and maintain compliance.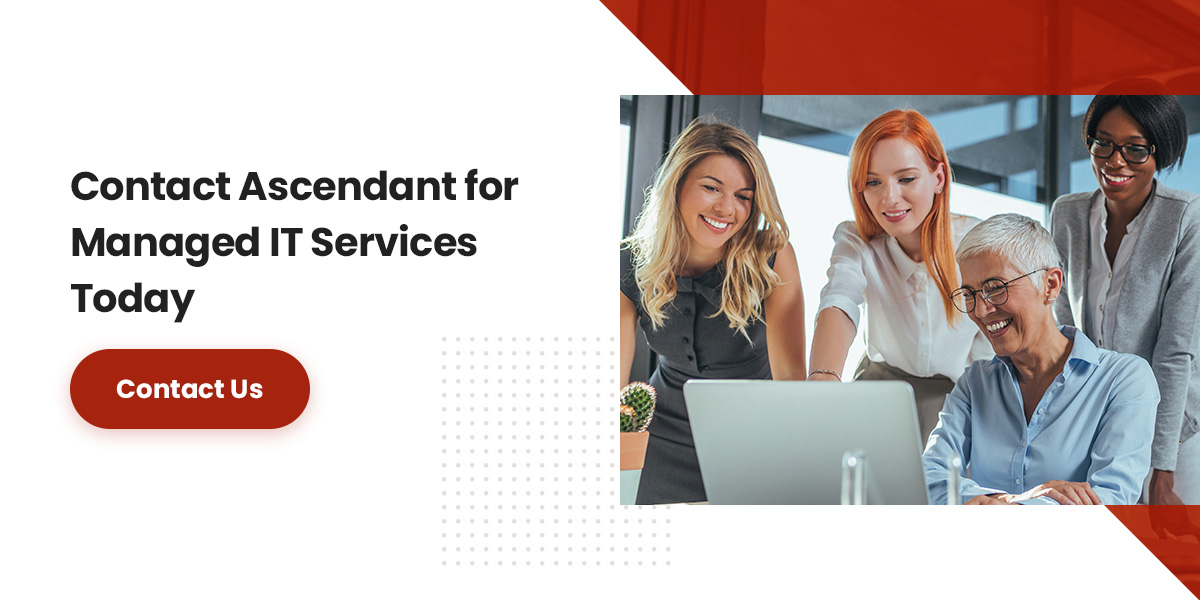 Ready To Take The Next Step? Contact The Top Managed IT Services Team In The State!
Having the right managed IT services team behind your business is essential for reaching your business goals. Kiss the technology problems goodbye. Don't wait. If you want to work with a top managed services provider, contact Ascendant Technologies today!